Interpretation Center of Nature and Bird Observatory, called Vuelo Latitud 40, is a unique place to observe the different varieties of birds that come to Las Grutas every year. It is also possible to see whales from the interpretation center.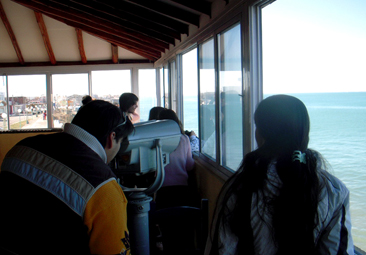 Vuelo Latitud 40's telescope.
The observatory depends Inalafquen Foundation and is located within the Private Wildlife Refuge "El Jahuel", which features a Parador Nativo to enjoy typical dishes and an excellent sea view. In the interpretive center there is a conference and projections room, but more importantly in the second floor of the building, there are telescopes that offer a view of an important area with shorebirds.
In Vuelo Latitud 40 visitors make a tour which goes through different situations that allow us to perceive the environment. You will learn about shorebirds and what they give us, as they indicate otherwise on the conditions of the environment in which we live.
Every year more than 40 species are directed from one hemisphere to another, making their nests in the arctic and migrate south in search of warmer temperatures and food. Among the birds that make their way south, it can be seen in San Matías Gulf a very diverse group that includes sandpipers, plovers, avocets and oystercatchers.
The Interpretation Center of Nature "Vuelo Latitud 40" opened on November 2, 2007 and since then is an ideal place to experience an unforgettable learning and recreation experience.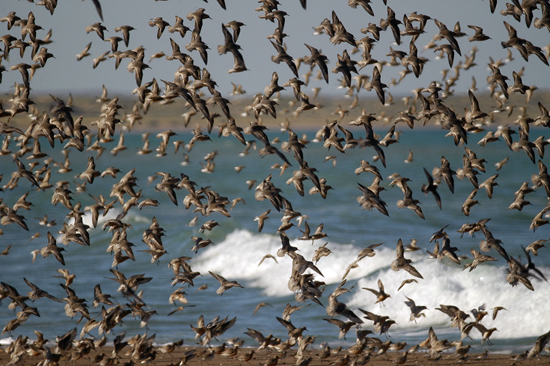 Flock of birds on the coast of Las Grutas.

Photos courtesy of Department of Tourism Las Grutas.