Neuquén Capital: the largest city in Patagonia

See map
Neuquén itself did honor to the meaning of its name: daring, bold, strong in the Mapuche language. It develop quickly and continuously over the past years, the fastest growing city in Patagonia, located at the confluence of the rivers Limay and Neuquén, is basically characterized by three aspects: its commercial hierarchy, because of being the center of the political, administrative and cultural movement of the region and for its lively nightlife.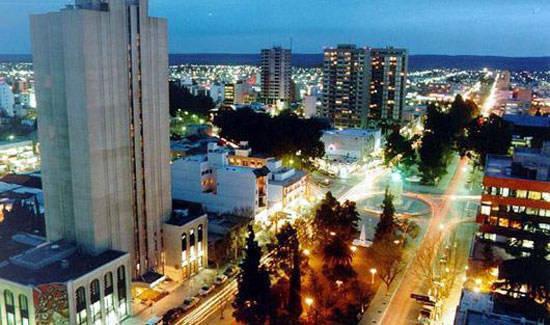 View of Neuquén's downtown from photo album of www.patagonia.com.ar
The "hamlet at the confluence" as it was called before becoming the provintial capital in 1904, became the last years in a troubled modern and classic city at the same time, the best and worst of progress, and an unstoppable development. To get a measure of the magnitude of this transformation it is sufficient to know the numbers of population growth. Neuquén is one of the fastest growing cities in the country's population, from 45,000 inhabitants in 1970 to more than 201,868 inhabitants (INDEC, 2001).
Features
Neuquén is the economic hub of the area. There are major oil companies that have a south headquarter there. Its strong urban development is framed by the green of the irrigated farms and the steppe plateau to the west. Its climate is harsh, with cold winters and very hot summers, besides high winds because much of the city is on high on the cliffs (the edge of the plateau).
The railroad first arrived at the confluence in 1902 inaugurating the railway bridge over the Neuquén river, work of great magnitude for the time. The street plan highlights the current location of its origin as a railroad town, as the main arteries change their names to the height of the rails. Today the train passes infrquently and maneuvers beaches and surrounding buildings have been "recycled" in museums, tours, etc.
It also hosts many of the faculties of the UNCo (Nacional Univertisity of Comahue) and its cultural life is intense and varied.
In summer, its proximity to three rivers (Neuquén, Limay and Negro) allows to offer several options when looking for a resort to refresh or recreate.
It has excellent hotels. It arrive at their bus terminal busses companies from all destinations in the country and its airport has a remarkable activity being among the firsts in the country due to the number of planes landing and taking off daily. Because of this complete infrastructure, Neuquén is for many the gateway to Patagonia.