Bridasaurio, Carlos Regazzoni in the Patagonia

See map
It is known that the Patagonia was inhabited millions of years ago by various dinosaurs. For this reason in Pico Truncado it was decided to make a tribute to these giants that inhabited the area with a sculpture: the Bridasaurio.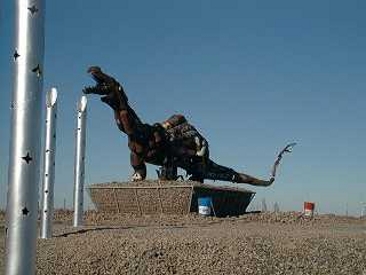 The sculpture of 17 meters long and 4 high was built by Argentinean sculptor born in Comodoro Rivadavia, Carlos Regazzoni. The company Bridas Sapic in 1997 commissioned him to do this work taking advantage of recycled materials from the oil industry. The materials used to make this dino were scrap metal, drums, drills, chains, clamps and valves.
The Bridasaurio is located northwest of the city, adjacent to the forest cord at the junction of Provincial Route 12, road to Caleta Olivia.