Peninsula Valdés: a unique wildlife reservoir

See map
Few places in the world offer the possibility to observe in their natural environment so much animals.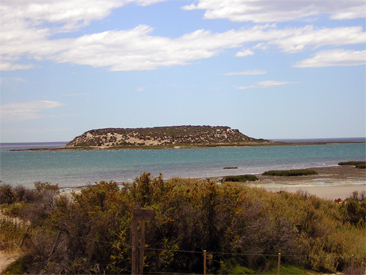 De los Pájaros Island next to the Carlos Ameghino Isthmus.
Valdés Peninsula, on the Atlantic Ocean, and 77 kilometers from Puerto Madryn is one of them. Giant whales at few meters, sea lions and elephant seals, penguins, numerous birds, guanacos and other terrestrial species are concentrated in this Nature Reserve of 360 hectares where almost there aren't no stars and more people than these.
So remarkable is the population of wildlife, that the UNESCO declared the site "Patrimony of Humanity".
The entrance to the peninsula is a delight for the senses. After taking the Provincial Route 2 from Route 3 or from Puerto Madryn, we reach the isthmus "Carlos Ameghino" that connects the peninsula with the mainland, and where water flanking both sides of the road.
In both the right and the left you can see the blue immensity of the Patagonian sea. On one hand, the Nuevo Gulf, and on the other the San Jose Gulf. If you lower the car window, you can even hear the squeaks of noisy birds that live close by in the De los Pájaros Island, which seemed to welcome you to the place.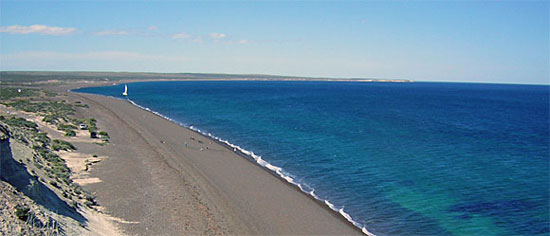 The beaches of the Peninsula invite you to stop and enjoy.

At that point, gateway to the Integral Reserve of Peninsula Valdes, one must stop to pay a ticket. There is the Interpretation Centre F. Ameghino and Fort San José Regional Musuem, ideal for in-depth information on places to visit and its geography, flora, fauna and history.
From here you can make a small detour and visit the De los Pájaros Island or go deep into the peninsula.
After about 25 kilometers on a typical steppe, it opens suddenly a heavenly range between golden cliffs. This magnificent view corresponds to Puerto Piramides, the only settlement of the reserve population and one of the most privileged sites to observe the famous southern right whales. These giant mammals come south in June and until December inhabit the gulf waters to breed and give birth to their young.
The fine golden sand of Pirámides invite you to sit on them and, simply, watch the sea or the occasional whale near the shore, or walk along the beach in search of most rare snails. From there you can continue traveling to the various wildlife reserves or rent a diving excursion. But what few people lose are the closest whale sightings.