Penguin Season in Punta Tombo

See map
Season to see the penguins up close in Punta Tombo starts in September.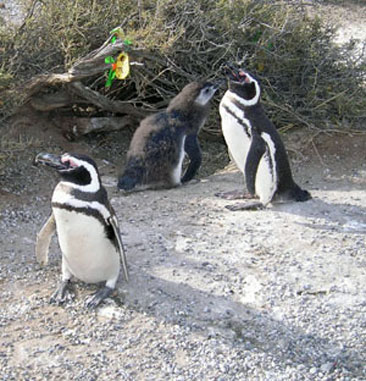 Penguins can be viewed up close.
In the province of Chubut it is this nature reserve converted in Protected Area to conserve the habitat of these birds and also conserve natural resources. The place has an area of ​​210 hectares and is among the few penguin in the world so large and so easily accessible.
As the whales in Puerto Madryn, Magellanic penguins visit us and tourists have the chance to know them closely. Fortunately, they are very friendly and allow themselves to be photographed, filmed or simply watched from nearby.
September and October is mating season, but it is the only time of year in which you can visit them.
From the Undersecretary of Tourism and Protected Areas of Chubut it was said that over the years it has been an increase in the number of visitors living in the province of Chubut, as well as a huge growth in domestic and foreign tourists.
The Punta Tombo Natural Protected Area has had a population growth of birds notable since its creation (in 1979) to the present, making it the largest continental reserve of Magellanic penguins. Today there are nearly a million specimens that can be observed. Their coexistence with a variety of wildlife is the reason why thousands of tourists from around the world come every year off the coast of Chubut to appreciate closely the natural spectacle of the Penguins.
There it also may be observed diversity of seabirds and shorebirds such as: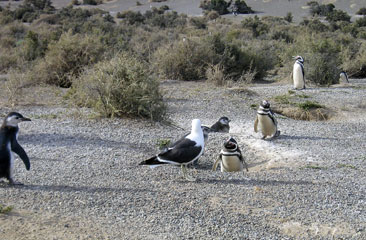 Penguins in a nest beside a cormorant.
terns
skuas
oystercatchers and cormorants
mammals such as:
guanacos
maras
foxes
hairy
and among birds:
choiques
martinetas
chingolos
calanders, etc.
In late August,
male penguins begin to arrive for reconditioning their nests and one month after arriving females which lay two eggs in October and after 40 days of incubation shared with the male, the chicks are born. Both males and females preserve the nest and feed the chicks with anchovies and squid. These chicks are born covered with a dark gray down that they move in February by a plumage that will allow them make their first forays into the sea to find their own food. Just a year later they acquire adult plumage.
New paths
In the 2009 season it were put in place changes related to infrastructure. Trails were renewed on the existing tracks to balance the flow of visitors and their impacts to wildlife. It was also implemented a circular path that allows to have a sector for the movement of handicapped persons.
It was installed a new viewpoint and checkpoint from which the rangers can control, and it were placed benches and sitting areas strategically located in the development of singposting.
For the convenience of tourists it was made an extension of the restrooms of men, women and new toilets for disabled persons with access ramp and railing.