Puerto Madryn City Tour

See map
In a brief tour of Puerto Madryn you can see the different architectural styles. Initially, wood and veneer brought by ship formed a number of premises connected by a gallery (the late nineteenth century).
Chalet Pujol, one of the buildings of the early twentieth-century that can be seen in the city.
The arrival of new immigrants in the 1910 incorporates new habits, customs and styles, appearing the front as a division between the street and indoor premises. Bricks and veneer roofs are still used for construction. It begin to reproduce elements of neoclassical architecture, example of this is the Antiguo Hotel (28 de Julio 147) and the Casa de la Cultura (Roque Saenz Peña 86).
After the Second World War and the arrival of another wave of immigration it is incorporated into construction the concrete slab, it was disappeared ornaments and it is accentuated the American way of life, appearing the living room and garage. This type of construction is found in the streets España, Alvear, Estivariz and Governor Maíz.
If you are in Puerto Madryn and are interested on admiring architectural styles do not miss:
Chalet Pujol. In this building is now operating the Oceanographic and of Natural Sciences Museum. Built in 1917, it was owned by a Spanish merchant entrepreneur, Agustin Pujol, who was mayor of Puerto Madryn from 1916 to 1917.
Railway Station. This building was opened in 1889 as Patagonian Railway station that operate until 1961. The building was completely recycled in 1994, keeping its old structure, and it currently runs there the bus terminal.
Toschke House. This building ran the first boarding school founded in 1921 by José Toschke, German teacher of great vocation.
Chubut Mercantile Company. Originally located in this building was the Chubut Mercantile Company, a leading company that had branches in Patagonia and own ships to transport goods from Europe to Buenos Aires. It is currently working there a factory of diving suits and supplies.
Piedrabuena Luis Dock. Opened in 1910, it was for 40 years the port of entry and exit of materials, people and products. It is used by divers and Madryn's people for sightseeing.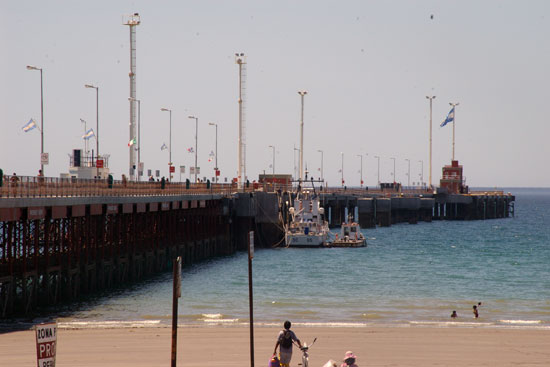 Madryn's Port seen from the promenade. Photo courtesy of George Evans, photo album Patagonia.com.ar