Argoturism: Hill Station tourist farm

See map
From Río Gallegos out by the National Route 3 heading east to reach Güer Aike after 27 km. From there continue on National Route 3 north 6 kilometers where there is a junction with Provincial Highway 55, gravel road that runs along the north bank of Gallegos river. Follow it about 30 km to the Hill Station.
With a beautiful main house, built in 1899, which has a classic glazed gallery cozy against harsh weather, is the pioneer Patagonian ranch held by individual effort.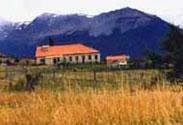 It was founded by William Halliday, who landed on 1 August 1885 at the mouth of Gallegos river with his family, equipment and prefabricated house, brought from the Falkland Islands. Ignorance of the river regime makes them lose all the equipment, saving a box of tools and a sewing machine. The captain gives them a canvas with which to build a tent under which they live two months.
In November 1885, comes "Villarino" bringing materials for the construction of the Underprefecture, Government House and the Court of nascent Río Gallegos. Halliday then acquired materials to build the first house and populated the farm with a lot of herding sheep brought in from Punta Arenas.
The name "Station" instead of farm is the name used in Australia to describe this type of establishment.
Continuing along the Provincial Route 55 to the Atlantic coast, you arrive at the spot La Angelia where you can camp and go fishing at sea.