The valleys: a heavenly oasis

See map
In Patagonia there are two major regions of valleys: the valley of Río Negro and the valley of the Chubut River, located in the provinces of homonymous names.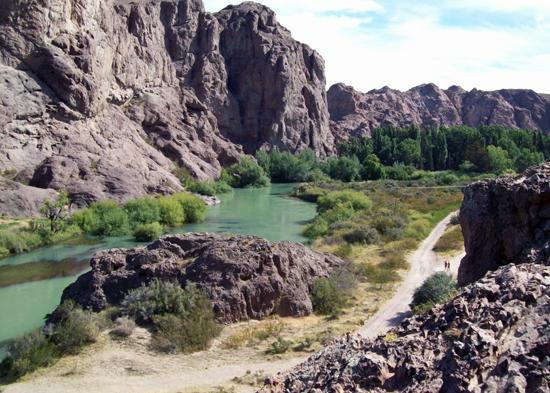 View of the Chubut river near Dique Florentino Ameghino. Photo courtesy of Rubén Alvarez.
The valleys are depressions in the land down to a lake or sea carrying the waters of a river or ice from a glacier. There are two types of valley formations a U-shaped and other V-shaped. The latter are slightly younger reliefs molded by erosion that converge in a very narrow background.
While the U-shaped valleys, resulting from the passage of a glacier millions of years ago, have very steep walls with a concave bottom. As shown in the photograph on the Chubut River Valley.
The same happens on the other Great Valley of Patagonia, Río Negro Valley, where you can appreciate more visibility upstream by the proximity of the walls that enclose it. Already in the middle or lower down the valley is wider and we are so easy to spot the strings, but remains the same valley. This is seen in the cities of Chimpay, General Conesa, Choele Choel or already in the valley below.
Within the province of Neuquén are the two tributaries of the valley, the river Limay and Neuquén. Each one individually has the typical U shaped valley, which is observed in the towns of Plottier, Senillosa on the Limay River and Centenario, Vista Alegre, Cinco Saltos over Neuquén river.
The characteristic of being open plains in the cords or plateaus is a resource highly suitable for agricultural production. Therefore, in the valleys there are large plantations of different fruits or vegetables, such as large-scale production of apples and pears from the Upper Río Negro Valley.