Children's Theme Park

See map
Comandate Piedrabuena has a new recreational space for the young ones with the theme of cartoon characters as Patoruzú and Isidoro Cañonez.
The new Children's Theme Park "Dante Quinterno" pays homage to the creator of several comic book characters who have invited to the reading and recreation of many children and adolescents. Dante Quinterno is the creator of characters like Patoruzú, Don Fierro and Isidoro Cañonez, who are the inspiration for this new tourist attraction in the city.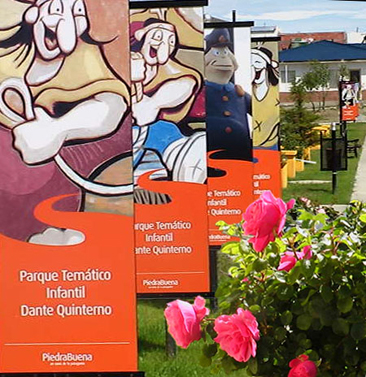 In the posters from the park entrance are some of the famous characters from Quintero.
The new initiative came as part of a project developed by students at the Escuelita del Rio during a workshop on Participatory Planning for Environmental Education Projects, by the technique Pujadas Daniela, who is responsible for the area of ​​tourism in the locality.
The need for children's recreational space was the main reason for creating this project. Besides the characters embodied in the works of artists José Kura and Daniela Almeidas, the park will feature games for children with special needs and recreational areas to relax and have a great day outdoors.
Who was Dante Quinterno?
Great cartoonist and founder of the first Argentine union of comics distribution. Dante Quinterno died in 2003 at the age of 93 years with an extensive tour by literature and caricatures, among which highlights some characters such as Isidore Cañonez and Patoruzú.
He was also honored in 1996 for his career with the gold medal of the Chamber of Deputies of the Nation and in 1999 he was distinguished by the Legislature of Buenos Aires.
Quinterno ever told that his beginnings were scribbling unusual portraits of national Argentine heroes in the school boards to the astonishment of his teachers who, however, they were quick to recognize his innate gift for caricature stroke.
Source: Undersecretary of Tourism of the Province of Santa Cruz.