Leleque Museum: to the rescue of Patagonian history

See map
The setting of this museum, aside from its careful collection, is one of its most striking features. It is not in the middle of a town or city, but sets in a landscape whose history you want to witness, almost in the same environment seen by the Indians centuries ago. In the steppe, 100 m from the paths of La Trochita at the foot of the Andes, there is the Historical Museum of Leleque.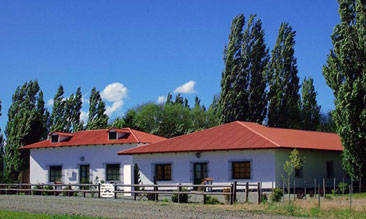 Leleque Museum's exterior.
Scientists and researchers from across the Patagonia attended at the opening of this museum, back in 1998. To do so, they had to move from Esquel (the nearest town) to farmhouse Benetton, property which is within the institution. In fact, to carry the museum out, there were contributions of the Benetton Group SA, in addition to the Compañía de Tierras de Sud Argentino SA and Fundación Ameghino.
The museum has 4 rooms. The first is dedicated to the indigenous people, where you can observe the reproduction of a wigwam, everyday objects and explanations of procedures used. The second room explores the first contacts between Native Americans and whites cultures. The third room develops the state's presence in Patagonia, the incorporation of the capitalist system and the disputes over land control. The last room pilgrims the social transformations occurring in Patagonian society due to the arrival of immigrant groups from different ethnic groups. Chilean, Lebanese, Italian, Spanish, Welsh and American, each with different habits and costums forged an identity for this country during the first half of the twentieth century. In annex building, the museum also has "El Boliche" that reproduces the atmosphere of a general store at the beginning of the century.
To reach the museum ypu have to take the National Route 40. If you starts from El Bolsón, you must dirigrise south. And if done from Esquel, you must go to the north. It should be taken a dirt road to the east at km 1440.
Distamce to Esquel: 90 km.
Distance to El Bolsón: 80 km.
Distance to Bariloche: 180 km
Hours: 11 to 17 hours. Closed Wednesday.
The museum is closed during the months of May and June.