Tetrathlon of Esquel

See map
The city of Esquel, most important tourist center of the Cordillera of Chubut, is credited with a competition that brings together athletes from the country and neighboring countries as well. It is about the Douglas Berwyn Tetrathlon which takes place in September each year.
This event consists of four sports that challenge competitors to deploy all their wisdom and skill to meet the goal of winning. You can see the participants to deploy all its efforts to achieve their rushed, crossing the finish line of the Tetra of Esquel. Athletes must complete:
6 km Ski in La Hoya resort
32 km Mountain Bike with rapid declines
7 km Kayak by Lagoon La Zeta
12 km Trekking around Lagoon La Zeta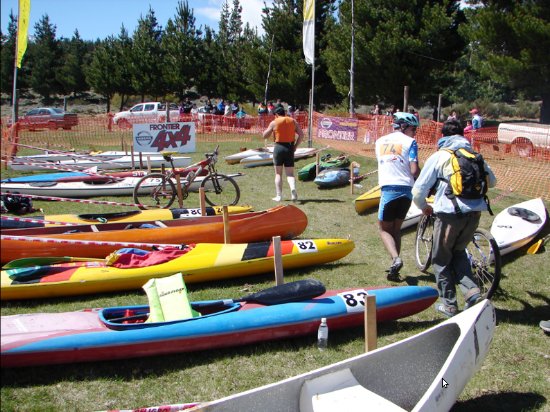 Changing of discipline in the race. Photo courtesy of
http://tetraesquel.com.ar/
2010.
Tetra History
In 1986 in accordance with the completion of a new edition of the National Ski Festival was given to Douglas Berwyn, one of the leaders of the Club Andino Esquel, to organize a race that starts at the Cerro La Hoya and ends in the town. That was how, this extreme athlete gave birth to what is today the Tetrathlon of Esquel.
At first it involved five disciplines by teams: skiing, cycling, rowing, motorcycling and walking. In the year 1989 it had its first version for indivudual and in 1991 it performed as tetrathlon, eliminating the stage on a motorcycle.
Who can participate?
Competitors can participate individually in the following categories:
Elite (18 to 29 years),
Senior A (30 to 39 years);
Senior (40 to 49 years),
Master (more than 50 years);
Súper Master (more than 60 years);
Free Ladies (up to 39 years),
Ladies Senior (40 years and more);
Promotional Gentlemen;
Promotional Ladies;
Cadets (12 to 14 years).
or teams in the following categories:
Cadets (12 to 14 years)
Free Gentlemen
Free Ladies
Promotional Ladies (no ages) -short circuit
Promotional Gentlemen (no age) -short circuit
Intercollegiates
The twenty-first edition of the Tetrathlon of Esquel will be held on September 25, 2011 and those who wish to participate can register until Friday 23 at noon inclusive.
For more information please contact the organization responsibles to the phones (02945) 15410134 / 155501815 or e-mails:info@tetraesquel.com.ar and jorgepapu@hotmail.com
Official site of the event: http://tetraesquel.com.ar/index.html