Air Festival in General Roca

See map
The flying club of General Roca is performing different activities during the year. From first flights, meeting planners, training for pilots and air shows. The same is located on Provincial Route 6 west of the town and reach the roundabout should bypass westbound.

The Flying festival has the participation of the Army and Air Force with static samples and flight equipment. Four days of pure entertainment for all visitors and locals who come to the local flying club.
After a long period of unrealized festivals, a group of air fans decided to work to offer a totally different event in the region. To do this, pilots delight audiences with aerial acrobatics, volvelismo, parachuting, model aircraft, experimental and blimps. Furthermore, there are the traditional first flights, a classic place.
Pilots of the city are join with the pilots of the fources who want to demonstrate their skills. For the same organization has arranged overnight stays, meals and free fuel for aircraft capable of performing first flights. The last festival was held at Easter 2011, from 21 to 24 April.
First flight in the flying club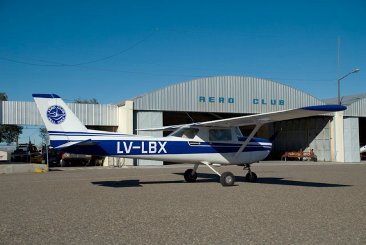 One of the hangars of the flying club of General Roca. Photo courtesy of the flying club.
In the flying club of General Roca recreational flights are conducted on Saturdays, Sundays and holidays over the site. The tour consists of a take-off to the side of the neighborhood Gomez, then turn left to Route N ° 22, continue along the same road to Mendoza street. There is again a left turn and travels this road to the height of the runway, where it turns again and comes to the flying club.
The entire route is about 600 meters high and allows spectacular views of the city, the area of ​​farms, the Negro River and bards. It is suitable for family and lasts 10 to 15 minutes.
For more event information contact Rodolfo Frank, president of the flying club at (02941) 15503129 or visit the official website of the institution.