Trek to Los Hitos

See map
The tour begins in the spring that is in the Lago Puelo National Park. From there you can go by the lake shore and across a ford of cold water, or even crossing the Azul river footbridge to stay dry.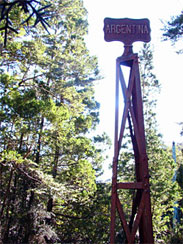 The milestone marks the international border between Argentina and Chile.
Then, at few meters, there is a sting in the west leading to Los Hitos, the point that divides Argentina and the neighboring country of Chile.
Following the tour is a camping of the ministry of Education, and then you have to walk through a canyon into the forest. The species observed are those of the Andean Patagonian forest as cypress, coihue and myrtle, as well as the hazel and ulmo, own of Valdivian rainforest.
As the journey progresses, the landscape is getting thicker because of the greater amount of moisture that characterizes the forest ecosystem. Stones covered with moss and giant ferns form a dark green background, has its contrast in the orange tones of the myrtles.
After an hour of walking you meet again with Lake Puelo, down from 420 meters above sea level to 200 meters. There you reachin the bay of the Gendarmerie, a wasteland of inexplicable beauty, lots of tranquility and a mirror of water reflecting the sky and mountains in high definition.
You have to go through the gendarmerie place to report how long you will be at the border and you should always carry documentation and permits for minors, if required.
From the west end of the lake you can see, only 500 meters, Los Hitos, name given to the signs that mark the international boundaries. The boundary passes through the Puelo river at few yards from its birth in the lake itself. The turquoise waters leads paradisiac dyes, and only a few meters it back to lead a lake, the Lower Puelo, which is a continuation of the Puelo in Chilean territory. Next it comes its way from lake to lake, ending at the Pacific Ocean.
The area is unspoilt, there are some towns like Segundo Corral or Llanada Grande, but only have a hundred people.

Stunning scenery can be seen in the trek to Los Hitos.