Places to go in Puelo

See map
Different options for a walk and to fully know the Andean city of Lago Puelo are offered to the adventurous tourist and eager for action. Here are some of them.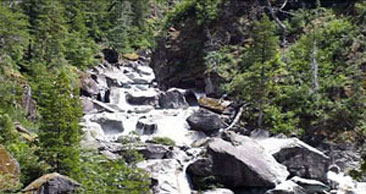 Blue river view from the Mirador del Blanco.
From the Footbridge you can go to Motoso shelter. This is a trip that takes about 6 to 8 hours each way. With moderate difficulty and a maximum elevation of 820 meters above sea level, in the way you can see the diversity of flora and fauna of the Valdivian jungle in the cord of morrudo.
Mirador del Blanco. It is a walk of about 45 minutes average duration, of low difficulty, and in which you can go watching the Blue River, native and exotic species along the way, finishing in a stunning viewpoint where you can admire the Blanco or Motoco falls.
Another corner to see is the lagoon Huemul. If you go walking you will last 3 to 5 hours, passing through forests of cypress and evergreen. At the first ridge you see a beautiful view of the valley and the town of Lago Puelo. After 15 minutes you get to see the lagoon Huemul, that in times of autumn paints its shades orange by the beech and adds to its green waters make an incredible scene. You can spend the night but without the possibility of a fire.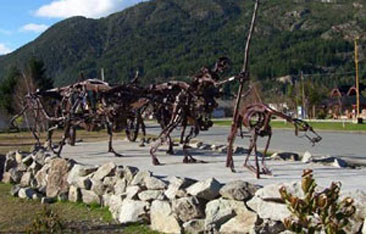 Mirador de la Virgen on Currumahuida Hill.
Mirador de la Virgen on Currumahuida Hill. It's a gazebo framed by a natural rock crevice, where you can see all the urban plant, the Blue River and much of the Lago Puelo National Park. The circuit includes a rise of about 45 minutes with low-medium difficulty and sleeping areas. The sculpture of the Virgin was carried out by the local artist Mariana Graciano and its name Currumahuida Virgin comes from the Mapuche language and it means curru= black, mahuida= hill.
Within the Lago Puelo National Park you can done lake tours and activities.
- Coastal sailing, in an hour-long you run along the west side of Lake Puelo along the cord of morrudo.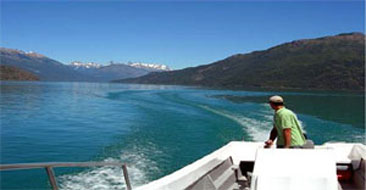 Lake excursions on Lake Puelo.
- Walking to the border with Chile. It is a 3 hour tour where you pass the cord of morrudo and then land on a pier for a walk of 30 minutes approx. to the limits. On the tour it is said to tourists about the fauna and flora of the valdivian jungle of those sides and back to the dock you access along the Cuevas Hill.
- Kayaking: short and long outputs for which no previous experience is required. All long runs include food.
- Diving: baptisms for beginners with instructor and outputs for experienced. It includes all items.
- Fishing: fishing trips of varying lengths, ranging from one hour to full day all-inclusive. You are advised by professional fly casting and spinning guides, and you do not require previous experience.