Services and activities in Lago Puelo

See map
Lago Puelo integrates the Andean Comarca of Parallel 42, which is distant 132 km from San Carlos de Bariloche and 165 km from Esquel. This mountain village is accessible from both south and north on National Route 40 which is fully paved.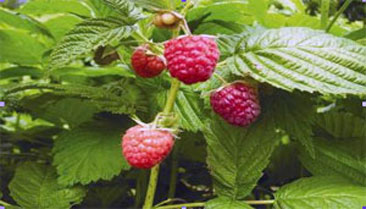 The fine fruit is one of the main crops of the region. In the tours you will visit the farms and taste the fruit.
Populations that comprise the Comarca along with Lago Puelo are El Bolsón, El Hoyo, Epuyén, El Maiten and Cholila. All of them base their economy primarily in the production of fine fruits (cherries, strawberries, raspberries, etc.) and tourism.
Lago Puelo has a wide range of tourist services, being its range of accommodation, dining, hiking very varied.
The urban center of the village has an area of ​​about one kilometer, being the tourist information office at the entrance to the city. They provide information and brochures about accommodation options, tours, visits and more precise details.
Activities for outdoor
Horseback riding: horseback riding tours by the Azul River Valley, farms, forests, fording of the river, viewpoints and views of the valley of Lake Puelo. Special rides to Chile are also available for groups.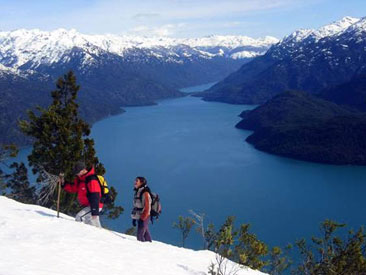 The walks and tours can be conducted in winter and summer.
4X4 Tours: In vehicles equipped for the adventure you travel those inaccessible roads, fording streams, climbing mountains and crossing neighborhoods, to places of unique and valuable stage.
Mountain Activities: Lago Puelo offers a wide range of mountain activities. Guided trekking to different places with beautiful scenery, with a duration ranging from 1 hour to several days immersed in Patagonian forests walks, rock climbing, abseiling, group and individual activities and activities measured at anyone capacity.
Agrotourism: different agrotourism farms in the area invite you to enjoy their products and to share their way of life. Tours are conducted by them, which are immersed in incredible landscapes that make the experience a special moment, where common people share their home, their life, their customs and their specialties.
Holistic: in the tranquility of your accommodation you can enjoy massages and various complementary therapies. Pampering in Lago Puelo is reborn in body and soul.
Cultural activities: several shows produced by local artists of high standard, are possible to enjoy in the nights of Lago Puelo.
Delivery breakfast: with just a call you can surprise your partner or family with a sumptuous regional and home breakfast in your accommodation or anywhere you want. You will receive trays complete with rich pastry that you can then take them home as a gift.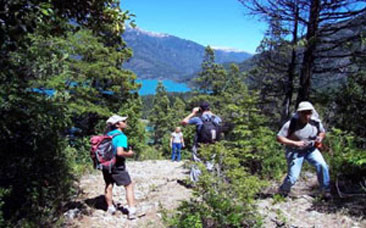 Guided trekking by native forests.
Regional products: Lago Puelo has lots of crafts and regionals products of the area. Crafts, tools, vitroux, tissues, chocolates, ice cream, homemade beer and much more will complement your natural experience of being in Lago Puelo.
Rock Art Site "Chacra Piedra Pintada": paintings were made in this granite outcrop by the first peoples who occupied this territory for about 1300 years. They correspond to one of the later styles of rock art sequence of Patagonia, called "style frets".
Gastronomy: unique mountain range specialties will delight your palate in Lago Puelo. Trout, smoked venison and wild boar, Patagonian lamb, morels native sauces, pies and other dishes. Berries and ice cream for dessert. And teahouses delicacies for the evening.
Productive Craft Circuit: three family businesses of this town offer visitors an interesting tour of the area. Among beautiful landscapes and mountains you can see how people live in this beautiful region. Artisans and producers spend all year dedicated to the development of its products and open the doors of their houses for tourists and friends to discover their skills and specialties. Among crafts, chocolates and agrotourism you can enjoy a different and special moment.