Piedras Coloradas near Las Grutas

See map
Pedras Colorados beach, found within 5 kilometers of Las Grutas, has become the venue for those seeking a combination of peace and tranquility with a unique landscape.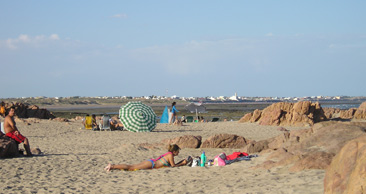 Piedras Coloradas Beach is chosen by those who seek tranquility.
While the resort has many downs near the city, Piedras Coloradas is a good choice for a break from the music usually heard from the hostels and the crowds that gather on beaches especially in the months of January and February. From here you can appreciate the sound of the sea and a beautiful landscape composed of reddish rocks. These rock formations are from the Precambrian period, i.e., they have more than five hundred million years. Its reddish color gives it the presence of feldspar in its composition. In this area can be easily found fossil and petrified oysters from the same geological period.
The place is dominated by wide and shallow beaches. Furthermore, the presence of the dunes makes it possible to practice sandboarding (surfing in the sand). Rental of tables can be done on site.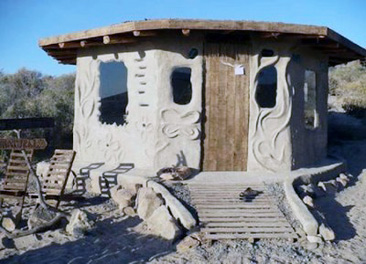 The library was built in adobe.
Activities in Piedras Coloradas
The activities may include: horseback riding, hiking, camping, fishing from coast and the above mentioned sandboarding. The walks to the beach should be made at low tide that is when you have more time to arrive before tide increases making it impossible to access from the coast. The fishermen who come to this place can get different species like rays, silverside, snook, and so on.
Beach Library
For those who like reading, in the beach of Piedras Coloradas there is a unique library built in adobe and adorned with glass bottles of different colors. The book collection is made from the donations they receive at each visit.
Directions
To Piedras Coloradas you can reach on foot, on horseback, on a fourtrax ride or by car by a gravel road. You access by San Antonio Avenue or by the streets Sierra Grande and Samuncura. You pass through the neighborhood, "los pulperos' in which live the octopus fishermen and where you can get fresh octopus.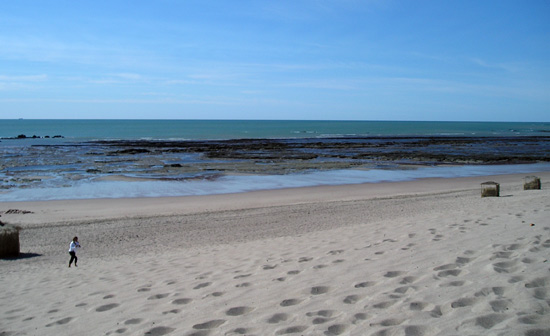 Piedras Coloradas beach is wide and shallow.