What to do in Río Grande

See map
Getting to Río Grande, Tierra del Fuego, is to arrive at a different, unique, natural place.
The most popular choice at the time to enjoy this area is fishing. In Tierra del Fuego it stands an area that day after day is gaining prominence because it offers a paradise for the practice of this activity. This area is covered by lakes Yehuin, Fagnano, Chepelmuth and Yakush and internationally renowned Grande river.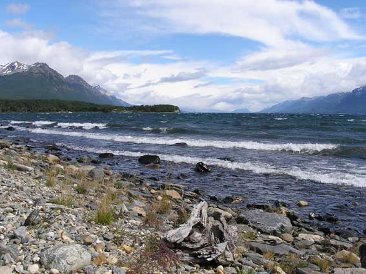 In addition, there are various alternatives for to tourism in and from Río Grande. Among them we can describe:
Salesian Mission - Museum: Hours: Monday to Friday from 08.30 to 12.30 and from 14 to 17 hours. Saturdays and Sundays from 09 to 12.30 and from 15 to 19 hours. Directions: Route 3 at 11 north of the Río Grande. Phones 421642 / 421893 / fax 430667
Virginia Choquintel City Museum: Hours: Monday through Friday from 9 to 12 and 14 to 20 hours. Saturdays and Sundays from 15 to 20 hours. Location: Alberdi 555. Phones 430647 / 427767 free entry.
Farm Maria Behety: It offers the opportunity to meet one of the great farms of Patagonia and one of the largest shearing sheds that exist in the world. The wool harvest runs from December to February. Directions: Route Complementary "C", 15 km from the city.
Farm José Menéndez: Complementary Route "B", 20 km from the city.
Lake Yehuin: 75 km southward. Going first through the National Route 3 and then through Complementary "F" you reach the intersection with Route Complementary H, where it is located the aforementioned lake. It is a great place for hiking, water sports and boat excursions, sport fishing and watch a great variety of birds.
Cape San Pablo: 80 km south on National Route 3 is the intersection of Route Complementary "A", penetrating 40 km eastwards (towards the sea), you travel along a road with panoramic views of hills and beech forests. This place offers the rare option of having mountains, forest, sea and river exclusively for nature lovers. Off its coast lies the rusting hull of the ship "Desdemona" stuck in place.
Punta Páramo: At 104 km to the north it is this strange natural phenomenon that resembles a narrow road that juts into the sea and that seems to form a dock on the bay San Sebastián. This place of rare beauty and solitude, was elected earlier this century by the Romanian adventurer Julio Popper to develop the gold industry. There he created his own currency, formed an army, printed his own stamps, among other eccentricities that earned him a starring role in the history of Tierra del Fuego.
Within the sport activities it can not fail to mention the International Boat Raid Tierra del Fuego that runs in its entirety the Grande river from its source at Lake White (Chile) to its mouth in the Atlantic Ocean (Argentina). It's currently conducted at the end of the month of October and mid November.