National Meeting of Fly Fishing

See map
The city of Río Grande is once again witness of the meeting of the lovers of the sport of fly fishing. This is about the National Meeting of Fly Fishing that is done in December.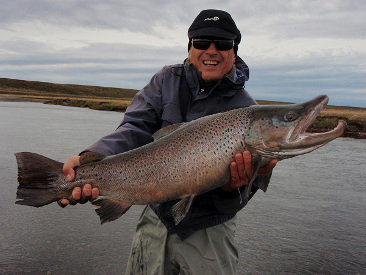 One of the catches in 2010. Photo courtesy of the
event
.
Sport fishing is one of the most conveners activities in the province of Tierra del Fuego, that's why in 2008 it was decided to conduct a competition that brings together the best in this discipline. Each year, more participants join the event reaching in the latest edition (2010) to 150 rods across the country who can enjoy the Grande river along 56 km, a river considered of first-class international level.
The organization of the event is the result of a coordinated effort between different entities within those the IN.FUE.TUR., the Association Riograndense of fly fishing, some council members, the Farms Mary Behety, Despedida and Kautapen (who allowed the access to them for that the competition takes place) and the government of the province of Tierra del Fuego.
During the four days that the meeting takes place there are clinics and lectures dissertation related to fly fishing topics, apart from the days of fishing in which fishermen demonstrate their best skills. This is to emphasize awareness of how important and essential is to care the place where we live.
Fishermen have a specialized professional guide in fishing to assist in the days of river, they havey free lunch service in charge of the organization and they are invited to the Closing Dinner Show, where major prizes are drawn.
Contacts:
Source and photos: Instituto Fueguino de Turismo