Tours to Tronador Hill and Los Alerces Waterfalls

See map
Circuit total distance: 215 miles.
Duration: all day.
This tour covers one of the most beautiful parks in Patagonia: Nahuel Huapi National Park, and the highest mountain in the area: El Tronador, 3,478 meters high, located on the border between Argentina and Chile. On the way to the summit you will see forests, lakes, beaches, mountains and waterfalls.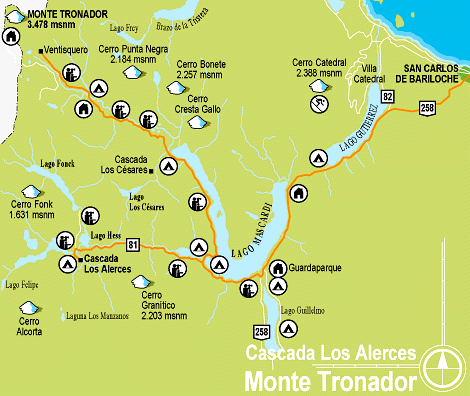 In addition to the amazing landscape, this trip takes you to the huge Ventisquero Negro Glacier, formed by a pristine white blanket of ice on top of the Tronador.
There the Manso River originates, a typical mountain stream that descends from the Tronador zigzagging toward the Pacific, overcoming differences in height through the formation of rapids and cascading waterfalls, as the one known as Los Alerces, binding in its wake a variety of beautiful lakes.
You can make the ride just to see Tronador or combine it with a visit to the waterfall.
How to get there
From Bariloche, take Onelli street leading to National Route 258 ​​to Villa Mascardi, you drive 35 km along the the shores of lakes Gutierrez and Mascardi on the way you cross rivers Melgarejo and Pilmayén.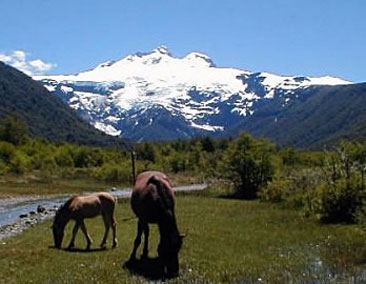 Pampa Linda and Tronador in the background.
Continue along the road to the junction with dirt Route 254. After taking it, 10 km later it crosses the Manso River, meeting again with the west coast of Lake Mascardi. The drive also passes through El Balcón, Upper Manso River, Pampa Linda, the Vuriloche Valley and reaches the Ventisquero Negro Glacier, named for being covered in dirt, sand and stones.
The tour culminates little later at the foot of the Tronador Hill. There, through a path, you can reached a rock amphitheater called Garganta del Diablo. This is the a great stream of water feed by snowmelt.
Los Alerces waterfall is an alternative circuit. Instead of crossing the bridge over the Medium Manso River, continue along the path through the lakes Los Moscos and Hess. Then beat the Roca River and when arriving at the end of the road, you can reach the viewpoint of the waterfall.