El Bolsón from Bariloche

See map
Total distance: 258 kilometers.
Duration: all day.
Leaving Bariloche to the south on National Route 258 you can enjoy a magnificent journey to the town of El Bolsón. Among the route you see lakes Gutierrez and Mascardi, pass through the localities of La Veranada y Pampa del Toro, and look at the mountain ranges of Ñiriguau and Áspero.
Then the road ascends over a thousand meters above sea level on a winding road that runs through the Cañadon de la Mosca. After this, the road begins to descend toward the hamlet over Villegas River. Kilometers ahead, you cross Foyel River and after crossing the bridge over Quemquemtreu River, you arrive at the region of El Bolsón, which is nestled in a picturesque area.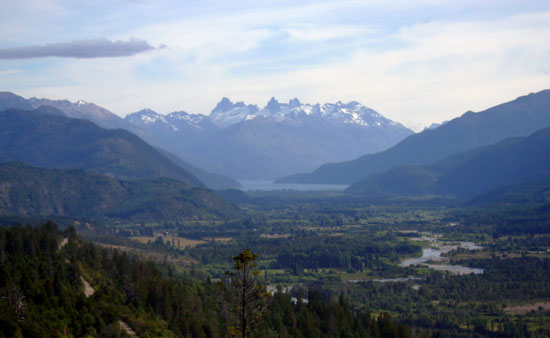 Seen from the viewpoint of Azul River. In the distance you can see Tres Picos Hill and at its foot it is Lake Puelo. Photo courtesy of Oscar Cano from Patagonia.com.ar photo's album.

There the traveler can find all necessary amenities for a pleasant stay at 120 km from San Carlos de Bariloche, in the province of Río Negro. El Bolsón invites you to enjoy its excellent microclimate and to experience its nature.
The man of the mountains, peasants and artisans has established an indisputable quality art with wood, clay, metals, stones and dried flowers between other natural materials. All these handicrafts can be found in the Regional Fair on the central square. This fair is famous throughout the Patagonia because it gathers in 230 posts a world of wool, ceramics, leather, candy, fresh fruit and vegetables, knives, candles and everything produced by residents of El Bolson.
The city also has a very important offer of agritourism. Housefarms and farms on the hillside offer tourists the chance to share the rural life of the area along with their owners.
These establishments have an organic and natural production without chemical additives or preservatives: sheep, goats, cattle, rabbits and poultry gredding; strawberries, raspberries, cherries growing; orchards with all kinds of vegetables and trout farms.