Cerro Otto: another option to enjoy the snow

See map
Otto hill is located at just 5 km from the city of San Carlos de Bariloche, in the heart of the Nahuel Huapi National Park and the intersection of De los Pioneros Avenue and Sara María Furman Avenue.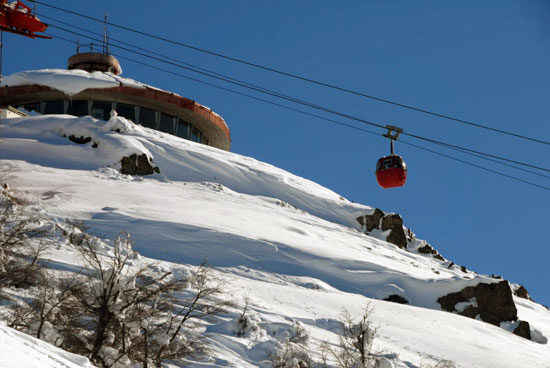 Nacelle and rotating cafeteria at the top of the hill.

There is located the Gondola Resort Cerro Otto, where it is the Lower Station of 42 modern shelves (each with up to four people seated) to arrive at the Top Station to 1,405 meters above the sea level.
On that shelves you travel a distance of 2,100 meters at a constant speed of 3 meters per second, while respecting safety standards.
During the ascent you can see an unparalleled view of the city and its surroundings, majestic lakes and mountains and a sky that many savvy world travelers have described as unique for its perfect transparency.
Once at the peak itself you access the resort, which contains various recreation and leisure areas as:
Art gallery: where there are exact original size casts of the works of Michelangelo Buonarroti: The David, Moses and La Pieta, carved with 80% marble dust and 20% acrylic resin, among other photographic reproductions sketches and paintings of the famous Italian artist and faithful copies of the tools he used.
Otto House Music: the only dance on top of a hill, equipped with high tech equipment that let you enjoy of music and dancing, turning day into night on the most fun mountain.
Microcinema: to learn from the history of the city, of the own Gondola Resort and a tour the Nahuel Huapi National Park, documented in high-resolution images and in different languages ​​according to the profile of visitors.
Cable car view of one of the gondolas in the aire.

Restaurante and rotating cafeteria: unique in its type in South America, where you can taste delicious dishes of regional cuisine, while rotating at a speed almost imperceptible to the total length of 360º in 20', running a spectacular view of generous nature. Fully glazed and heated by hot air system that allows the relaxation after each activity. It has a capacity of 250 seats and you can taste delicious smoked dishes as deer, wild boar, trout, salmon and sweet delicacies accompanied by steaming coffees, teas and the ever present original hot chocolate to refuel.
Sleigh: for fun in winter, walking in zigzag snow tracks carefully delineated with varying degrees of difficulty to suit all tastes and ages. The paths are surrounded by dense forests of beech, European pines, ñires and notros among many other species.
Otto Kart: colorful inflatables where you can slide down the slope of the mountain. Performed on a sled tracks (300 m in length) that for this activity is upholstered in a synthetic material that optimizes the slip, acquiring a safe speed, while the adrenaline comes in each banked curve. Winter off-season activity.
Hiking through the forest: in winter with snowshoes and the rest of the seasons, only with suitable mountain footwear. You go through a lush forest acompanied by an expert guide to discover the different species of lush vegetation: pines, lengas, coihues, ñires, among others. Unresistable! Each visitor carries the memory of being deeply in touch with nature among magically captivating landscapes. Activity for the whole year.
Prayer garden: a space in the hills to meet with faith and spirituality.
Photo service: for a souvenir gift themselves with the lovely St. Bernard dogs.
Funicular to the top: new passenger transport system unique in its kind in the country, which enables all visitors to enjoy more and more comfort on the mountain activities. This is a modern transport built entirely in Bariloche, which covers a distance of 170 meters to 1,400 meters high and it collects passengers once located at the end of runways, to climb to the start again.
The Funicular was opened in the winter of 2007, allowing tourists to climb to the summit by cable car, an activity previously carried out by foot, avoiding the difficulties of the slope of the mountain. It consists of two units on inland, pulled by a tractor cable capable of carrying 30 people seated and can climb to 800 passengers per hour.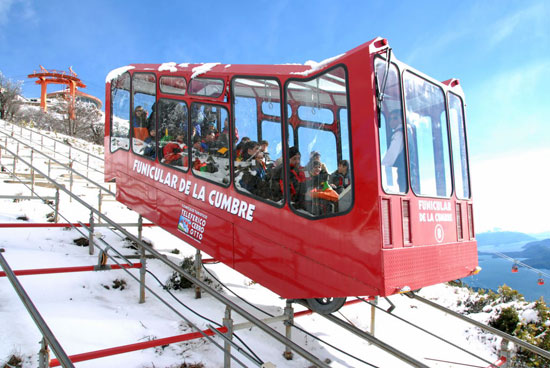 The Funicular of the Summit is unique in the country, allowing to ascend a path that used to be on foot.

2011 Season Rates
Cerro Otto cable car (up / down in panoramic gondolas)
- Adults:..............................................................$ 80
- Over 65 years:..................................................$ 60
- Children (6 to 12 years )...................................$ 45
- Children under 5 free
Sleds (any track) Pass with 4 funicular climbs ...............$ 40
Guided snowshoe walks (funicular climb) ...................$ 40
Schedule of Services
Box Office Base (km 5) -------------------- 9:30 to 18:00 pm.
Cabala (Mitre y Villegas) ------------------ 9:30 to 17:30 pm.
Last Climb ----------------------------------- 18:00 hs.
Last Drop ------------------------------------ 19:15 hs.
Ski Closing ---------------------------------- 17:30 hs.
Swivel Confectionery and all services of the Complex will be unavailable until 19:00 pm.
Source and photos: Teleferico Bariloche, info@telefericobariloche.com.ar