HIgh mountain activities in Bariloche

See map
Patagonia is a land of landscapes and changing climate. Its Andes offers an ideal geography for adventure sports: kayaking, hiking the Andes, skiing, etc., being Bariloche a favorite spot to start these journeys.
The city itself, one of the largest cities of Patagonia, has a varied restaurant and hospitality infrastructure, all services, entertainment of all kinds, quite sweeping landscapes and plenty of high mountain refuges that allow multi-day excursions. At the same time, its location is unsurpassed by not having extreme climates such as southern Patagonia, but has four distinct seasons to make every activity at the right time.
The activities that can be made from Bariloche cover:
Trekking Tours
Kayaking
Climbing
Ski Touring
High Mountain Trekking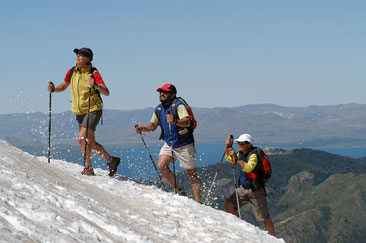 Walking through the snowy slopes.
An activity to do in this area from October to May. Trekking rescues the simplicity backpack walking, running valleys, slopes, ridges, through shelter, mountain lakes where you can swim on hot days and always enjoy the incomparable scenery. Some of the rides begin in forests up to the rocky summits and others already on the edge of the mountain ranges. In all cases, the sight from highs allows to appreciate the Andes majesty. Excursions for all age groups are generally conducted in mountains with heights ranging between 1900 and 2200 meters.
Trekking excursions conform to the characteristics of walkers and their interests. There are tours that last from a couple of hours to several days, ranging also the physical condition of each. While almost all the circuits used for this purpose create a healthy fatigue, there are some that are not advised for people out of state.
Some of these sites can be visited on an individual basis or by hiring professional mountain guide, whose information is available at the tourist office in the city of Bariloche or the Club Andino Bariloche.
Destinations
Bella Vista Hill: medium difficulty. The tour lasts 3 to 4 hours and is in sharp rise. It runs mostly forest to the edge where it is realizes a trek almost unimpeded. At the top you get a spectacular view of the Cordilelra de los Andes. Excellent for families with children over 12 years.
López Hill: The hike to the refuge of the Lopez Hill is one of the most traditional of the area. The trip takes about 3 hours and is not very difficult. It is well signposted and can be done on an individual basis. Can also be accessed with vehicle 4x4 to the refuge.
If there are still feel liked, from the shelter you can continue the walk through scree, about 2 to 3 hours more, crossing patches of snow, mountain streams, fine needles of basaltic rock and the imposing stone walls which offer this mountain, up to reach the summit at 2,200 meters.
Ventana Hill: This excursion can be made from September to May and is an easy walk that takes about 3 hours. From the summit you obtain an overlooking of Catedral, Ñireco, Blanco and Meta hills. It is an excellent excursion to walk all day with the family and adventurous people can cross the ridge of hills Meta, Confluencia and Pontoneros.
Cerro Catedral: This moderately difficult hike consist on climbing up the chairlift Robles Catedral from where you do a slope walk of 3 hours. You visit the lakes Schmoll and Toncek, where it is the Frey shelter. From there you can see great views of the beautiful landscapes of Bariloche and the lakes also allow a "dip" during the warm days of summer.
Chalhuaco Hill: is it the ideal mild difficulty trekking to walk and return tired without doing major ordeals. It passes through a forest and scree for approximately 3 hours.
Tronador Hill: the incomparable beauty of this hill offers a degree of difficulty from medium to high for those who want to reach the shelter located at 2000 meters. You can reach by car to the foot of the hill (at 80 km from Bariloche) and from there you can hire horses for part of the rise and then made a 3-hour dive to the Otto Mailing shelter, located at the foot of a glacier.
Trekking across the Andes: this complete tour should be done with guides as they walk through the high peaks. It is the closest to satisfy the desire to cross, "almost on foot" Cordillera de los Andes. You cross the Andes from east to west reaching the Pacific Ocean from Bariloche, for which it is necesary to cross the border of Argentina and Chile. A large part of the journey is on foot although there are sections on boat to cross lakes and bus within Chilean territory.
It is an adventure rather demanding because of the number of days (14 in total) and physical exertion, although visitors will not be obliged to do as a whole and they may be included, if desired, in a shorter span of fewer days. The running times will range between 5 and 8 hours daily.
Kayaking
Patagonia has great rivers with different levels of difficulty to practice kayaking. Wonderful places, each with its own personality and hidden secrets. This addictive sport finds a powerful framework in Bariloche where you can also appreciate wildlife, flora and strong seasonal changes in forests and the environment. The adventures of these tours allow you to enjoy and truly experience this wonderful natural environment. Rivers where the sport is practiced are:
Manso (from Villegas at first Gateway) can be navigated throughout the year with 2 grade rapids.
Foyel and Manso. They allow to navigete quicks of class 3 and 4, and reaching up to the Argentine-Chilean border.
It is also possible to access to inaccessible places by other means, by kayak trips on Lake Nahuel Huapi.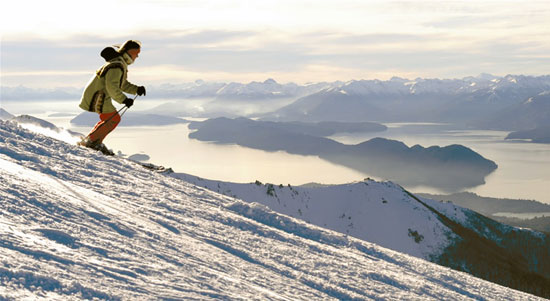 Skiing in Bariloche is skiing surrounded by breathtaking scenery.
Ski Touring
During winter, the Cordillera de los Andes near Bariloche not only offers the possibility of skiing in traditional centers (such as Catedral Complex), but also enables you to play beyond, where there are no means of lifting and the skier is alone before the immensity of the high peaks. Treading virgin snow you can cover valleys, ridges, visit shelters and enjoy the most beatifu lscenery with the sun shining in the Andean massif. Chalhuaco, López and Catedral Hills are locations with varying degrees of difficulty, allowing unique excursions.
Climbing
Climbing is an extreme sport that requires state and concentration. Bariloche's surroundings offer peaks and walls of varying difficulty and overwhelming beauty.
Cerro Catedral: Catedral's peaks with its beautiful granite needles can be accessed from December to March from the Frey shelter, at 1700 meters high (4 hours walk from the edge of Catedral). The Catedral offers 200 routes from Lake Toncek's valley ranging between 60 and 200 meters and their difficulty ranges from 4º to 7º. It is the typical place to settle several days with food and equipment for numerous alpine climbing.
Piedra Blanca: You can also make plate stops in Piedra Blanca with a fabulous view of Lake Nahuel Huapi. From October to May for beginners and a half.
El Valle Encantado: located at 60 km from Bariloche, this is another wonderful landscape. Full of needles of strange shapes of volcanic rock, it is ideal for this sport.
Photos: courtesy of EMPROTUR