Chocolate, a trademark of Bariloche

See map
Chocolate made in Bariloche is unlike any other. Who have not heard somewhere in the country speak of chocolate "Bariloche"? No doubt they are referring to the home-style product that is sold in grams and has different flavor.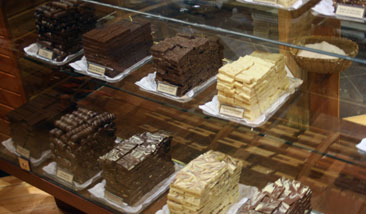 Bariloche chocolates are known throughout the world. Nobody returns without a box of chocolates.
Few tourists should be those who say goodbye to this town on the shores of Lake Nahuel Huapi, without taking even a box of chocolate on their arms. If someone have to take a souvenir or gift a postcard from Bariloche, choose the chocolate.
But, why was so typical of Bariloche chocolate in the country? There are two factors that might explain it. The first is the climate of the area, mostly cold almost all the year, which makes it suitable to enjoy the calories of chocolate. The second factor was and is without any doubt, the culture's characteristics that lived in Bariloche. The center European origins of the settlement have left their mark as evidenced by the first chocolate industry by the Italian Aldo Fenoglio, followed by others of the same source who brought the culinary traditions of the old continent.
Through the years the reputation of chocolate "Bariloche" grew, and today the product is one of the main economic activities of the city and even the chocolate industry has flourished in other cities of Patagonia.
In Bariloche existed from sophisticated chocolate industries like Mamuschka and Del Turista, that sell Easter eggs, all kinds of fondue and chocolate products, besides exporting to different parts of the world, to small quaint shops attended by its owners. Stained glass windows and tempting aromas attract the attention and delight those who walk the streets of the city.
Once a year, it is paied a tribute to chocolate derived from cocoa by organizing the Chocolate Festival.