Tren Patagónico

See map
The Tren Patagónico (Patagonian Railway) is one of the most complete transports for all residents and tourists in the southern province of Río Negro. Tren Patagónico S.A. company provides an excellent service for those passengers wishing to enjoy the province from Viedma to San Carlos de Bariloche, visiting San Antonio Oeste and Ingeniero Jacobacci. This service departs from Viedma on Fridays and returns every Sunday to the provincial capital.
The Patagonian Railway in Bariloche Station.
During this particular trip, passengers can opt for the implementation of various activities, as there are various services that are aimed at making the union of the Atlantic to the Andes, a pleasure trip.
In the different cities where the train up you can make the most diverse activities. Bariloche is located on the shores of Lake Nahuel Huapi. There you can enjoy the fullness of nature in harmony with the comfort offered by the city. Ingeniero Jacobbacci counts with the maintenance of two historic railway lines, La Trochita and the Tren Patagónico, with its scenery and all the activities and traditions of the Mapuche culture. San Antonio Oeste is located on the San Matías Gulf and has a long tradition port. You may also make separate trips for their historic culture center. And finally, the provincial capital, Viedma, offers a city full of history and wonderful nature, where one can enjoy a very special setting for the practice of different sports.
For lovers of good food, in the restaurant train you can taste the typical Patagonian dishes, along with a selection of higher quality wines in the province.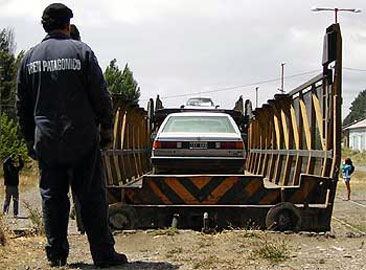 Preparing to move the cars into the Tren Patagónico.
For lovers of good cinema, one option is the car "Car Cinema", where the projection of different movies becomes a special event for those who enjoy cinema and travel in the Pullman or Cabin class.
For those who want to have fun as could be, the "Car Disco" is an invitation to dance and distract, plus find here a place to socialize with the other passengers. And to complete a "dream trip" passengers can enjoy the various live shows that are on the train.
Air conditioned, cabins, high tourism service, automovilera tray, are just some of the features of this train which offers an alternative for travelers who yearn to know a little more about Patagonia Argentina.
The localities where the train has stations are: Viedma, O'Connor, San Antonio Oeste, Valcheta, Ramos Mexia, Sierra Colorada, Los Menucos, Maquinchao, Ing. Jacobacci, Clemente Onelli, Comallo, Pilcaniyeu and Bariloche.
Las localidades en las que tiene estación el tren son: Viedma, O´Connor, San Antonio Oeste, Valcheta, Ramos Mexía, Sierra Colorada, Los Menucos, Maquinchao, Ing. Jacobacci, Clemente Onelli, Comallo, Pilcaniyeu y Bariloche.
Rates 2011
CLASS

Bariloche/
Viedma

Bariloche/
SAO

Jacobacci/
Viedma

Economic
$ 57
$ 47
$ 45,50
First Class
$ 75,50
$ 62,50
$ 61
Pullman
$ 117,50
$ 92
$ 92
Bed
$ 229
$ 205,50
$ 205

MOVING VEHICLES*

Bariloche/
Viedma
Bariloche/
SAO
Jacobacci/
Viedma
Auto Tray Way
$ 381
$ 381
$ 381
Auto Tray Round Trip
$572
$572
$572
4x4 Tray Way
$ 515
$ 515
$ 515
4x4 Tray Round Trip
$ 762
$ 762
$ 762
* Values ​​indicated for both services.
* Must be added to this rate the value 0.0010 + VAT of the vehicle for insurance.
Schedules
Hours up
Timetable Descending
Departure day: Fridays
Departure day: Sundays
Viedma
18:00
Bariloche
17:00
V. O´Oconnor
19:25
Pilcaniyeu
18:30
San Antonio Oeste
21:30
Comallo
19:36
Valcheta
00:30
Clemente Onelli
20:42
Ramos Mexía
02:35
Ing. Jacobacci
21:55
Sierra Colorada
03:20
Maquinchao
23:25
Los Menucos
04:10
Los Menucos
01:02
Maquinchao
06:05
Sierra Colorada
01:47
Ing. Jacobacci
07:30
Ramos Mexía
02:28
Clemente Onelli
09:00
Valcheta
04:33
Comallo
10:00
San Antonio Oeste
06:25
Pilcaniyeu
11:15
V. O´Oconnor
09:25
Bariloche
12:50
Viedma
10:50
Arrival: Saturdays
Arrival: Mondays
Source: http://www.trenpatagonico-sa.com.ar/Inicio.html and http://sateliteferroviario.com.ar/horarios/bariloche.htm