National Snow Festival in Bariloche

See map
Since 1970 takes place in Bariloche the National Snow Festival, an event highly anticipated by barilochenses and tourists. Renewed every year but without abandoning the traditional activities such as waiters race, the loggers contest, the torch down the hill and so dazzling fireworks show as a corollary of the party.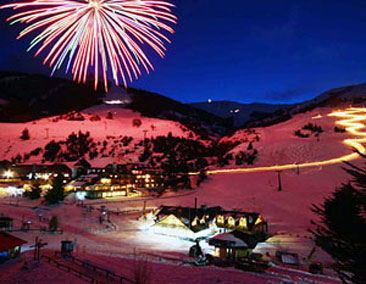 Traditional torchlight parade from the top of the hill.
The initiative for its implementation is the responsibility of National Parks, who in 1954 organized the first Snow Festival in Cerro Catedral, with major sporting and cultural events. There is now a permanent organizing committee created for that purpose.
Each year the organizers were increasing the amount and quality of scheduled events, with national and international competitions in skiing, parades of floats, folk festivals, election of the queen of the snow and chocolate, aerobatic displays, craft shows, contests of regional fabrics and of loggers, car racings and more.
Shows of national and international artists dazzle partygoers. It has attracted bands like Catupecu Machu and Los Auténticos Decadentes.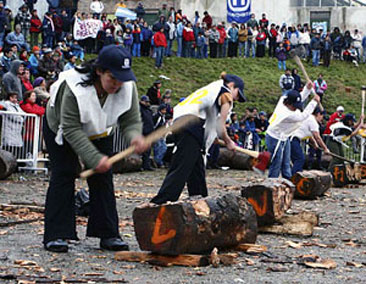 The whole family participate of the loggers contests.
Past Issues
Each party has a space in its schedule for sports activities. In this framework, in the 2009 edition was held an Aerobc March and an Athletic Proof, for both family and professionals and amateurs, who enjoyed the beautiful postcards of the city center of Bariloche. In addition, it was observed an exhibition of vintage cars.