4 Refugios Race

See map
The "Cuatro Refugios" race, organized by the Club Andino Bariloche, is a competition of strategy and adventure trekking that takes place in late March each year.
This race runs about 70 km and 3,500 meters of altitude in two days of competition with sleep.
It parts from the Frey bite through the mountain shelters of Cerro Catedral, Jakob lagoon, Negra lagoon and Lopez Hill, concluding at Colonia Suiza.
This race is unique in its kind because its route features spectacular sites and links 4 of the most renowned mountain refuges in the country in the Nahuel Huapi National Park. An unforgettable experience for competitors who love adventure.
All athletes of any nationality can compete, who will be given race instructions and maps. On them are marked checkpoints bypassed, where at least there should be a person who signed the passport for each team.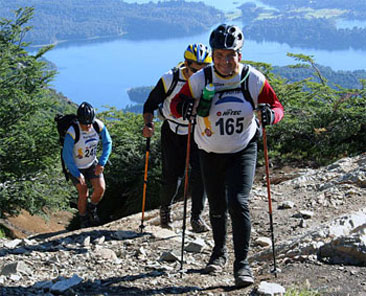 Such skills allow greater contact with nature.
Regarding the awards, sporting goods are delivered to the best of each category and for the first of the categories will be cash prizes.
Items include: a front runner, technical shirt, gifts from sponsors, fruit and sports drink for race days. Besides, it will be also provided a camping stay and carbohydrates dinner for Saturday night, Sunday breakfast and lunch tonic for Sunday afternoon.
Compete pro and classic categories. The Classic category allows a greater number of people participating in the challenge, people who do not require a physical and professional training. Competitors may perform the competition regardless of the category chosen, individually or in pairs, both men, women or mixed teams.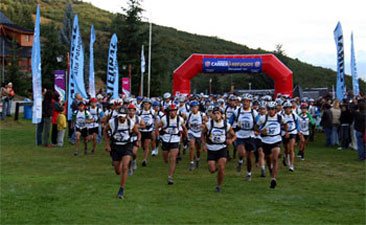 The start is one of the greatest moments in racing.
Classic category and pro category:
Open men: up to 40 years
Senior men: 40 years
Open women: up to 40 years
Senior Ladies: 40 years
Knights teams, ladies teams and mixed teams: no age limit.
2011 Cuatro Refugios
The 6 th edition of the race "4 Refugios Personal - Makalu Cup 2011" took place on 26 and 27 February 2011 for adventure lovers. They could participate in a competition that runs about 70 miles and 3500 vertical meters in two days of travel with sleep.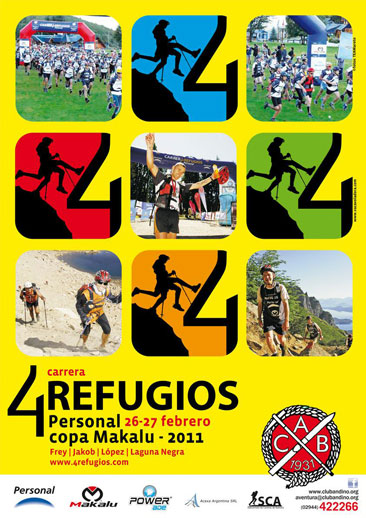 Official poster of the 2011 edition.
This last edition had the news that was unified in a single trip the route: the classic, which are the paths to the 4 shelters. But the variant for the more demanding and adventurous was the option of adding to the strategic "PC bonus", i.e., they could follow the classic path or deviate from time to time to a bonus that rewards them with important minutes off on your overall time. It was called the "minute-plus points" and the most trained could know new spectacular places and get in return minutes award.
The competition is opened to all athletes of all nationalities from the age of 15. The same should be recorded before 20 February and there is a maximum of 250 athletes.
For registration and further information consult the web pages www.clubandino.org or http://4refugios.clubandino.org/ or comunicate via mail to info@clubandino.org or fax to (02944) 424579 ó 422266. Seats are limited.