Tetra Catedral

See map
Athletes across the country are trained waiting the "Tetra Cathedral" competition organized by the Club Andino Bariloche that is carried out in August each year.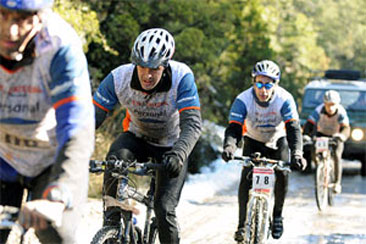 45 kilometers are those who must be travelled in Mountain Bike.
The Catedral Tetrathlon is an athletic test which is staged in four sports:
8 km of ski by the most important ski resort in South America
45 kilometers of mountain bike by paths and trails with mud and snow
10 km of kayak through the waters of Lake Gutiérrez and finally
15 km of trekking in the vicinity of Cerro Catedral
The circuit starts with skis on the slopes of Cerro Catedral, with falls and trips to the closed park closed n°1 of the base, Catalina Reynal Park. It Continues to decline in mountain bike to Colonia Suiza through Casa de Piedra, thence returns to Villa Catedral from which descends by Balcón to Lake Gutiérrez. Here, at the Lodge El Retorno, is located closed park n° 2.
The third stage in a kayak or canoe is bordering the north area of Lake Gutiérrez, long and ending in the same place. Then in the trekking stage, the competidors move up by the road to Frey, the circuit named Paco Echegaray, and by various roads and mountain trails to finish the race at the base of Cerro Catedral in Catalina Reynal Park.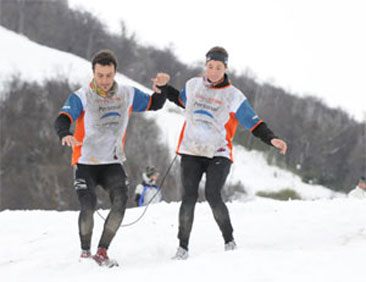 You could participate in pairs in the form post.
The competition includes more than 70 kilometers non-stop mode, which means that the total time taken from that long until you cross the finish line and it can be run individually, in pairs or "post" form of 2 to 4 runners. The latter is a very convenient form that grows every year, designed for those who want to assemble a "team of friends", one skiing, other biking, another rowing and the fourth running.
The test is open to all persons of any nationality who wish to participate. They must only comply with the deadlines for registration and certificate of fitness.
The categories to be played in singles are: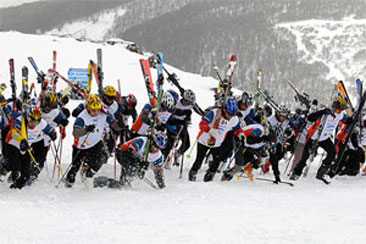 Pole in one of the disciplines.
- Gentlemen:
Open: Up to 40 years
Seniors: Between 40 and 50 years
Masters: 50 years and older
- Women
Pro: up to 40 years.
Free: More than 40 years
In addition, you can run in teams of two to four participants, in the form post, which is produced by shifting the front to another broker on the same team within an enclosed park at the time of change of discipline. There are two types of post categories: men and mixed.
Cash prizes are awarded for the best for the individual categories and also cups and/or sports equipment to the highest-ranked of all categories.
Photos: courtesy of the Club Andino Bariloche