The Mil Millas Race, a classic in Bariloche

See map
Mil Millas race is one of the most anticipated events for lovers of classic and sport cars. Participants of the 1000 Millas Sport tour the cities of Villa La Angostura, San Martin de los Andes, Junín de los Andes and El Bolsón.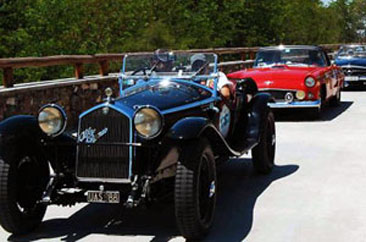 Each edition increases the number of participants, more than 150 vehicles are expected.
Participate in this race cars made between 1920 and 1981 that cross paths surrounded by lakes, valleys and mountains of Río Negro, Neuquén and the neighboring country of Chile, with the head of San Carlos de Bariloche.
Year after year it grows the amount of pariticipantes, arriving in its latest edition to exceed 150 vehicles around the country and the world.
Cars that can participate need to be part of automotive history, be unique pieces of classic or sport cars and allow viewers to see cars of almost every decade of the twentieth century.
Event organizers invite tourists to attend with camera in hand, because some of the cars that are there may not be available even in historical museums.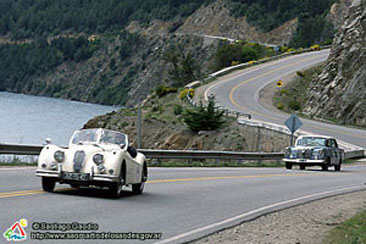 The scenary and the cars - photo courtesy of Santiago Gaudio www.sanmartindelosandes.gov.ar
The Mil Millas Sport in Argentina began touring in 1989 organized by the Club de Automóviles Sport. Currently, the event is already part of the global calendar Fiva and its importance is of international standard. So much that brings tourists from neighboring countries and countries in Europe and North America.
All these pilots are united by the thrill of adventure to handle these relics as the unique landscapes of Patagonia. The Mil Millas joins cities in Patagonia and Chile. Llao Llao Hotel is the starting point, then the cars travel the roads of such beautiful mountain cities as Villa la Angostura, Junín de los Andes, El Bolsón and Lago Puelo, while on the side of Chile is traversed by Paso Samore.
The most important cars that participated in the 2010 edition of the Mil Millas are: the Peugeot 1920, two Bugatti, Ferrari 275 GTB 4 and a 365 GTB/4 Daytona. Also an Alvis TD 21 and two vintage Bentley.
More information: www.1000millas.com.ar