Del Turista Chocolates from Bariloche

See map
Founded in 1964 by Cecco family, "Del Turista" is currently one of the most famous chocolate shops in Bariloche.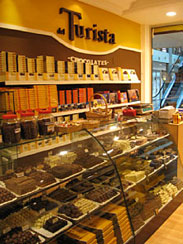 Del Turista Chocolatest. Photo from www.chocolatesdelturista.com
If we have to choose a place in the world to determine the source of chocolate that is manufactured in San Carlos de Bariloche, no doubt we will talk about the Swiss-Italian Alps. The first chocolate company was the one from the Italian Aldo Fenoglio. Then Benito Cecco came to this area, a young relative of Fenoglio family, born in the Italian Tyrol, in the Veneto region where he learned the craft of chocolatier.
"Del Turista" Chocolates started then as a family business that has grown over the years and today has a staff of 110 people working in the factory and in shops. Pablo Cecco, took over as industrial manager and remember that
"as child, like all children, going to my father's work gave me a special pleasure. What I saw, what I smelled was truly magical. So I learned to love this job."
"Del Turista" was the first chocolate factory in Bariloche. And now this plant of 5,000 m2, counts since 1979 with forty machines attended by sixty specialists what allow to make seven production lines, with two hundred different products and a quantity of 3,000 kg. chocolate daily. One of his main specialties is the chocolate cups and chocolate fondue, as well as its famous Easter eggs, decorated by hand and the various chocolate figures. 90% of this production is distributed outside of Bariloche, in the same way that the different varieties of nougat and dried fruits are covered by chocolate for New Year and Christmas. "Del Turista" is truly a growing company that has made known its products throughout the country, even abroad through representatives.