Trekking, a mountain adventure

See map
A good alternative when visiting Bariloche is to enjoy the adventure in heavenly places, reaching the mountain shelters of Nahuel Huapi National Park. The trekking is a good alternative to know them.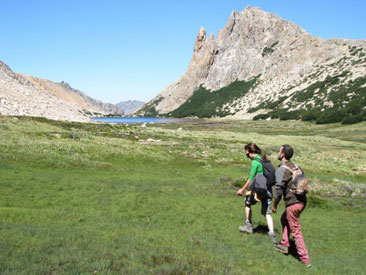 Challhuaco Hill Walk. Photo courtesy of EMPROTUR.
This sport, for all levels, ensures a direct contact with nature. To practice it is only need a good shoe, like walking, a backpack with some food and be aware of certain recommendations. Such as leaving early in the morning, accompanied by an expert mountain guide. It is also advisable to move in groups and not alone, providing safety and more fun during the trip. Walks can last from 3 to 6 hours, depending the place you choose to visit.
Bites or man-made roads to all the shelters are marked. On both sides can be seen machete cuts and paint marks on the bark of trees and typical oblique cuts on coihues and branches reeds. It is always important to memorize details of the road when we ascend to avoid losing its way on our return.
Once we started the hike, we will enter the peaceful world of native forests fording rivers, streams and waterfalls. We will live then the moving experience of isolating of urban noise to only hear the chirping of birds, the sound of silence or running water.
When we are tired, we stop to rest and feed. Eating fruit and drinking mineral water is recommended, but do not forget to store the waste in a plastic bag in your backpack and keep clean nature.
Moreover, keep in mind that with a little more effort we can reach the top. There expect us the famous shelters, where we can get accommodation, hot food and admire a spectacular view from the top of the mountain. Watching the world from above can distance ourselves from our concerns and know ourselves better.