Trekking: Berghof Shelter - Otto Hill

See map
It has three ways to get there: from the Km.1 of Pioneros Avenue; from km 2 of the same route up the Cipresales street or by km 4.5 down the street José Ingenieros. The marching time towards this shelter is 1 1/2 hour to overcome the gap of 450 meters.
This historic refuge in the city of Bariloche suffered a serious fire on December, 1st 2011 which completely destroyed the place, but local authorities and the Club Andino Bariloche announced they will begin with the reconstruction of it as soon as possible.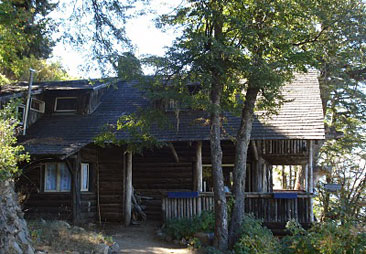 Berghoff Shelter in Otto Hill.
The Berghof is capable of accommodating 40 people and offers catering and kiosk. You can also get here by car coming up the km 5 of Pioneros Avenue, where it is the lower station of Teléferico Cerro Otto. In its comfortable gondolas you arrive in a few minutes until top rotating cafeteria, enjoying the journey of a beautiful view.
Later we started to go down the path of cars, later introducing in the forest where you get to the slopes of Nordic ski and biathlon, which are used in winter. Here we can see the small spot of skiing, where is the military shelter. Into the valley, we will place the entrance and the Berghof shelter poster, where Otto Meiling, patriarch of the Argentinean climbing had located his private home.
The land was given by the C.A.B. in concession to Tato López, who runs the place and organizes the activities of adventure tourism. The tours run through the eastern slopes of Cerro Otto and include mountain lunch or typical tea with cakes in the afternoon.
We visit the Habsburg Rock and other parts of the mountain. You can also take a course in rock climbing in the area of ​​Piedras Blancas, just 15 minutes from the shelter.
The Berghof shelter consists of a spacious living room, kitchen and pantry and in the upper floor are the bedrooms. It is built mostly of wood. Adjacent to it is another smaller shelter, called "Tábano". Below we envision the private home of don Otto Meiling, which has recently been transformed into a mountain museum. From the Meiling we go down the cars road to Piedras Blancas and then on to Bariloche.
Source: Club Andino Bariloche