Trekking: Cerro López Shelter

See map
From the López river at km 22.5 (Circuito Chico), before crossing the bridge on your left and next to a kiosk starts a busy and well signposted road. It has several steep and after crossing a bushy area to get back into the forest there is a bifurcation of paths. The left is softer and the right, something more difficult and steep.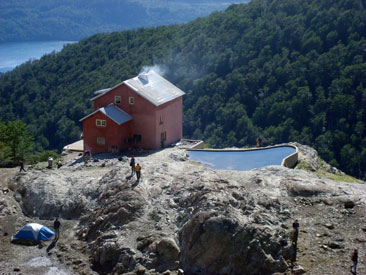 The Lopez shelter and the breathtaking view that you observed from there.
The shelter, painted pink, is located at 1620 meters and can accommodate 100 people. The duration of the upward march is three hours and its surroundings are interesting tours to other peaks, and even you can reach the shelter of the Negra Lagoon.
This mountain lodge, with its view offer the most beautiful panoramic view of Lake Nahuel Huapi and surrounding area. Cerro López was named by Francis P. Moreno as a tribute to the author of the National Anthem, Vicente López y Planes.
The López shelter is owned by Carlos Sonntag, one of the best mountain guides in the town who was licensee of the old shelter destroyed by an avalanche. It is the largest and comfort refuge of all who are in the city of Bariloche. It has two large bedrooms, a dining room and bathrooms with running water. Closed only in the winter months.
Of note is the interesting and very easy trip to "La Hoya" (1850) and to the "Pico Turista" (2050 m) that can be made from this shelter. La Hoya, a half hour's walk, has the distinction of holding snow until the summer months, being a very striking attraction for tourists and campers.
Source: Club Andino Bariloche