Villa Pehuenia: a picturesque tourist village

See map
The existence of this beautiful village does not have much time. It began with the sale of building lots at low prices by government to promote this area almost unknown and slowly began to appear the first buildings. The location has an exceptional beauty: the lake Aluminé on Provincial Route No. 13, 70 km from Aluminé.
The town stretches along the coast of the lake and has superb affordable hotel offering and restaurants and cafes for all tastes.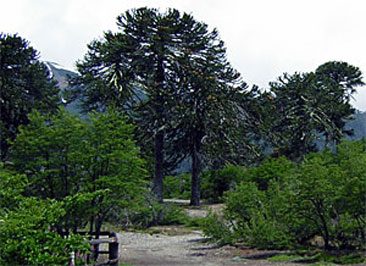 Araucaria forest, typicall landscape in Villa Pehuenia.
On the shore of the lake can enjoy quiet beaches with picnic areas and downs for boats. You'll also find one of the campsites has a supermarket, the others are in the resort town.
From Pehuenia you can visit beautiful landscapes in the lake Aluminé you can reach lake Moquehue or climb on foot to Batea Mahuida volcano, in which is located Winter Snow Park of the same name operated by the Mapuche Puel community.
Trekking to Península de los Coihues
Starting from Cura Huapi beach(inn in lake Aluminé) is 6 km along the lake and the village through natural forests (radal, coihue and ñires). Finally we should pass the viewpoint of Lake Aluminé to reach the peninsula.
Trekking to Batea Mahuida volcano
Beautiful ride of hard hike, which begins in Villa Unión. The tour covers a great diversity of landscapes, volcanic environment, meadows, forests of araucarias, two lakes tucked in the volcano and two lookouts. Can also be reached by car up to about 300 meters before the mouth of the volcano (ask in the commission to promote of the Villa).