General Roca: in the center of the Upper Valley of the Rio Negro

See map
General Roca was born on 1 September 1879, at the height of the Desert Campaign, when progress was the goal. It is currently the second largest city in the province of Río Negro after Bariloche.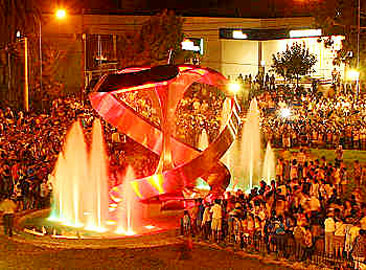 The fountain looks like an apple, the city monument
Supposedly modern, urban development has left only four old buildings standing, though its small-town living is one of its greatest charms.
Nestled beside the Negro River and National Road No. 22, is an important commercial center of nearly 100 000 people that is a good example of the cultural and artistic diversity of the Patagonia.
In the center of the town are the best ways to sample regional and national dishes, a good "Patagonian Cordero" accompanied by exquisite wines produced in the region and, why not a dessert, a delicious pear or apple pudding to form a pleasant and typical menu in the Patagonia. Of course, for those who like argentine "asado", Italian pasta or pizza, the city offers a host of local varieties for all tastes.
Culture and entertainment are also present in this valley town. Its intense and recognized artistic activity beautify and make the stay even richer for any tourist in the city. The theater, dance and "murga" give color to the Roca night: both performers in bars and the artistic and cultural foundations offer an alternative to that proposed by the clubs, cinema and museums.
The main activity is intensive irrigated agriculture, which made possible an important agro-industrial activity. Harvested fruits are among the best in the world, so every year we celebrate the National Apple Festival.
Some places worth visiting are the "canalito" ride, a canal surrounded by green, which crosses the city, the museums Lorenzo Vintter, MUnicipal de Bellas Artes and the Patagónico de Ciencias Naturales, the industry establishments devoted to the commercialization of the fruit and its derivatives, the mysterious "Valley of the Moon" in the middle of the cliffs and the coast of the Negro River. Other sites of interest are:
Las Tres Cruces hill gazebo
Located 13 kilometers southeast of the city, towards Ingeniero Jacobacci, crossing the Paso Cordoba bridge and circulating Provincial Road No. 6, access to the gazebo through a short gravel road. From it you get a privileged view of the Negro River and surrounding valley.
Paso Córdoba
Recreational tourism circuit on the banks of Negro River, 10 kilometers from town. A bridge over the river links the two margins and the beauty of the place offers great attractions to develop sports such as cycling, mountain biking, motocross, enduro, horseback riding, diving, boating, fishing, hiking.