Paragliding in General Roca, a look from the sky

See map
Flying at 650 meters high I could see the silhouette of the Negro River with its distinctive blue and the graph of the farms in the valley in contrast to the arid south bank of the river. After several turns in thermals rising I landed where my son, my wife and family from other drivers were as well as many people that frequent the place, amazed at my arrival, came to ask about the characteristics of the glider. I practice this sport along the Negro River in the area of Paso Córdoba, 15 km from General Roca.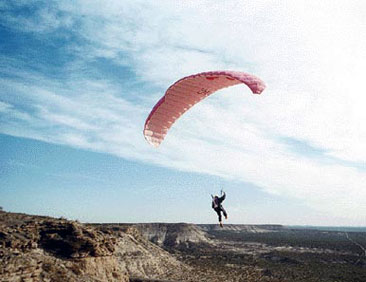 Flying in Paso Córdoba.
Paragliding has no limits of age or sex, your safety is almost complete, but depends on the awareness of the pilot when flying above the weather and psychophysics conditions.
Paragliding is the only aircraft transportable in the trunk of a car that weighs about 15 kilos and fulfills the dream to fly imitating birds.
The flight time can be 5 minutes or hours, you can also fly several kilometers away. All weekend, accompanied by our families, the pilots of the area will meet to practice the sport, either by dynamic on the bards of the place (80-100 meters) or using the trailer, which allows us to get about 500-600 meters in height and thus find the updrafts.
Pilot training requires a theoretical and practical course of about two months, always depending on climatic conditions. For course information call (02941) 422 496.