Casa de Piedra: a weekend option from General Roca

See map
The reservoir Casa de Piedra is located on the border between the provinces of La Pampa and Río Negro, along the Colorado River, 350 kilometers south of Santa Rosa and 110 from General Roca, heading north. It is accessible from La Pampa through the National Road No. 152 and from Río Negro Provincial Route No. 6. You can also get from Catriel, 55 km from the lake.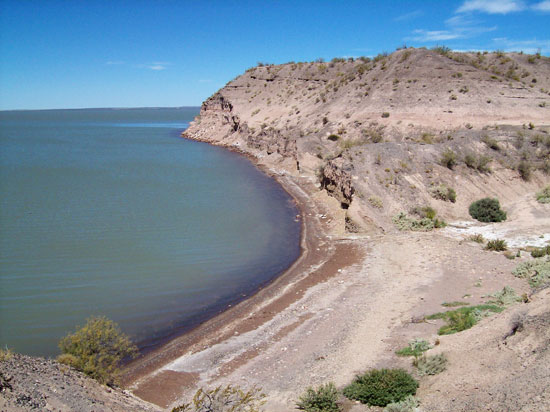 View of the artificial lake Casa de Piedra. Photo courtesy of DIrección de Turismo Municipal de Catriel.
This artificial lake provides the opportunity to enjoy fishing for various species: trout "rainbow", brown trout, mackerel, trout Creole, carp, overito, crappie and mojarrita. The shores of the dam have gentle slopes that invite to the practice of nautical activities, favored by water features.
The deeper areas reach 50 meters and the rest of the lake does not exceed 20 meters of crystal clear waters. Although this is a young town, Casa de Piedra can receive visitors with health services, grills and free access to the lake. It also allows camping and boating advised by Argentina Coastguard.
Among the natural goodness that we see in the place is the typical landscape of Patagonian plateau, with its pliable undulating valleys and bards of yellow and red colors, as a result of the composition of sandy materials of marine origin.