The Grotto of Lourdes in Puerto Deseado

See map
Pilgrimage to Virgin Lourdes is the most important annual event in Puerto Deseado. This explains the fact that the sanctuary is one of the most striking and attractive buildings that have been made in this city. Therefore, both to faithfuls and non-believers, the place is one of those places that is worth visiting if you walk through Puerto Deseado.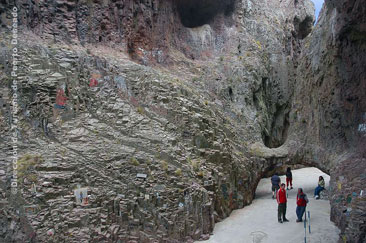 The Grotto of Lourdes. Photo courtesy of Department of Tourism of Puerto Deseado.
The Grotto of Lourdes is located 14 km from the town going along National Route 281 and then you access a forwarding of 3 km. It is a majestic sanctuary located in the canyon "De las Bandurrias", born in the spot Tellier and that empties into the Ria Deseado, after traveling about 15 km.
The area where is located the Grotto of Lourdes goes through a massif of volcanic rocks formed more than 150 million years ago. In this area the natural walls exceed in its highest point the 20 meters.
The sanctuary was built in 1947 and for the construction some rocks were removed, the floor was matched and the canyon was wiped in order to reduce the danger that might have the visitors.