Valdes Peninsula: The Complete Circuit

See map
If you are on this journey around the peninsula valdes gasoline is recommended to charge in Puerto Pirámides, as they will be long kilometers of march, dedicated to the animals that inhabit it, and where there are almost no other supply centers. Despite the roads (all gravel) are in excellent condition it is recommended not to drive over 60 kph. For safety there are emergency telephone boxes scattered throughout the journey.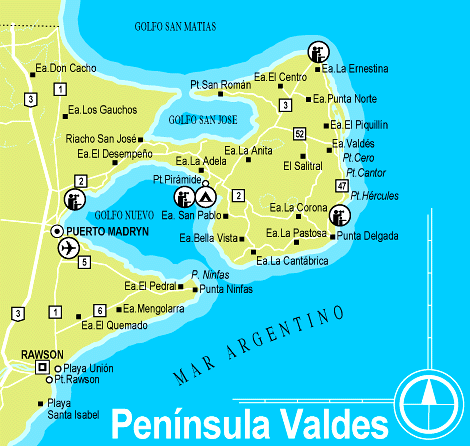 The following map shows how starting from Puerto Pirámides you can tour the peninsula in two directions. One is in direction of clockwise, heading for Punta Norte, down the coast to Punta Delgada and then return to Pirámides. This trip can be done obviously in the opposite direction, starting from Punta Delgada.
In what sense tour Peninsula Valdés?
You should take into account the tides and what do you want to see, whether whales, penguins, sea lions, orcas, etc. It is best to ask for help at the tourist office in Puerto Pirámides. They can say you the peninsula tides's time and what you should do in each case. For example orcas in Punta Norte are at high tide so it would be a waste to get there at low tide.
Finally one can choose a different circuit, just going along the coast between Punta Norte and Caleta Valdés. The reason is simple. Punta Delgada is closed to the public and accessible only by paying admission to a private property. Then since the peninsula is full of free surprises is perfectly possible to skip Punta Delgada, although the difference in kilometers is minimal.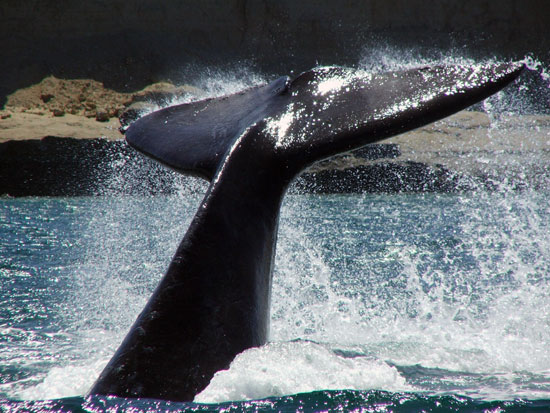 The tail of the whale, the classic postcard. Photo courtesy of George Barone.
A possible Itinerary step by step
From Puerto Pirámides, 5 kilometers is the first reserve: the seal colony at Punta Pirámides, where there are sea lions of a hair that breed and have their babies there from December to March.
The next stop is Punta Norte. Here, even in summer, you can see a large population of sea lions and sea elephants, and at high tide it is possible to see orcas. There is an Interpretation Centre and one of wardens.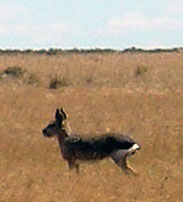 Maras and guanacos are often sighted along the roadside.
Then you can address to Caleta Valdés. There from viewpoints located on the cliff you can see the heavy sea elephants. Restaurant, restrooms, regional products sale and one wardens accompanying this reserve. In addition, two km to the north is a small colony of Magellan penguins.
Punta Delgada, yet at the southern tip of the peninsula, is the next and final reservation to visit. As mentioned before the access is paid, but the cost includes a guide that explains and shows the sea elephant colony. The site offers horseback riding, mini trekking, restaurant, souvenir sales and 4x4 excursions.
Another option for the tourist is thoroughly soak in the tranquility and beauty of the place, staying in one of the five farms that are in the peninsula.
The return to Punta Pirámides, and then again to the Provincial Route 2, to return to Madryn or to National Route 3. But this road should not be done in a hurry, because if we pay attention we can see guanacos, maras and many other animals along the route.