Cerro Catedral: the most important ski resort

See map
19 km from the city of Bariloche is Cerro Catedral, named by the similarity of their beaks with a Gothic cathedral.
It is the largest ski resort in South America, which is reached from Bariloche following the Avenida Bustillo to kilometer 8,the following the road to Villa Catedral where you arrive at the base of the hill located 1000 meters above sea level.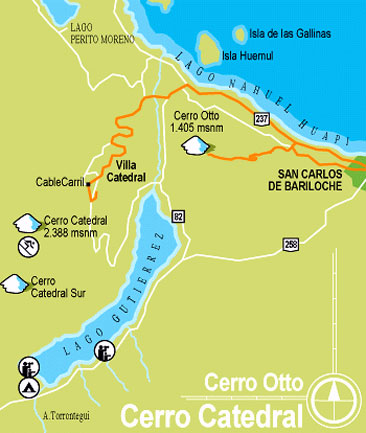 Catedral has a height of 2388 meters above sea level and has about 2,000 acres of ski slopes over 70 tracks for all levels and excellent lifts.
Whether skiing in winter or enjoying the breathtaking view from the summit, Cerro Catedral offers an extensive infrastructure of services, facilities and recreational activities. It is permanent headquarters of major social and cultural events, including snowboarding and skiing competitions for professionals and amateurs, including the timing of the International Ski Federation (FIS).
But Catedral is not just for skiers. Among other alternatives you can enjoy: paragliding, mountain biking, trekking, dog sledding, snowmobiling, fourtracks.
Different paths
Beginners can take their first steps in the snow in the areas of platform at elevation 1200 and 1600 where the instructors teach both individual and group classes.
Skiers who are already familiar with the techniques may climb to the top of the Quadruple Punta Nevada where the view of Cordillera de los Andes is awesome.
It is also enjoyed by pedestrians, who ascend the Combi Cable and Lynch Lane, Punta Nevada to the Refugio Lynch, the oldest inn, high in Catedral.
The combined excursions ATVs and snowmobiles, give a unique opportunity to enjoy the snowy forest and a spectacular view from the base.
Location and amenities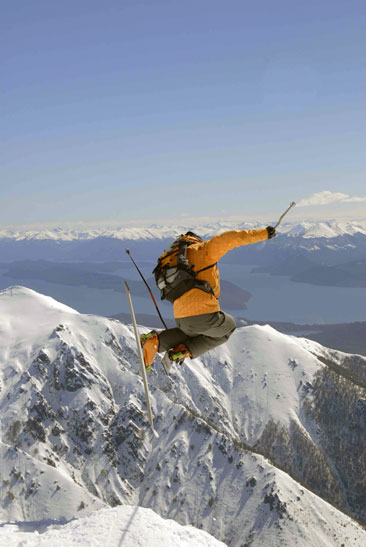 El cerro Catedral es uno de los principales destinos elegidos para la práctica de esquí.
Cerro Catedral is one of the main destinations for skiing.
The hill is located in an open area so that you can see the mountains in all its grandeur. You can enjoy the mountain from one of the cafes of the ski resort while sipping hot chocolate with cakes and local sweets.
Catedral has over 20 hotels where people seek refuge. In the Base, young and old can play in the snow or sit in restaurants, shops and cafes to enjoy the spectacle of the snow.
Skiing is associated with good food. In this area the choice is varied: restaurants, cafes, kiosks mountain. In galleries and hotels in the hill are frequent art exhibitions, as well as regional craft shows. It has a shopping mall food court, shops, restaurant and arcade.
There are clubs and rental and snow care equipment (clothes, tables, poles, boots). They can be rented by day, week and season.