Catedral Alta Patagonia, cerro Catedral

See map
Cerro Catedral, the mountain in Patagonia, has more than 70 years working as a ski center. The company responsible, Catedral Alta Patagonia, runs the following equipment every winter ski season:
40 lifts,
600 skiable hectares,
19 gourmet inns
120 km of tracks,
as for this season is a real party.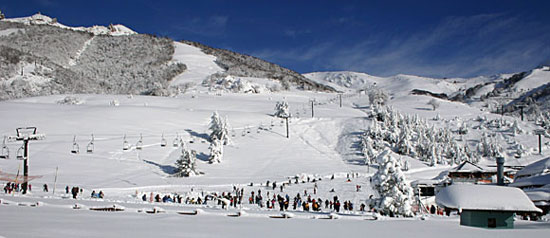 Overview of a section of Cerro Catedral.
At present Catedral is a modern mountain, as full of services as any in the southern hemisphere. Its history dates back to 1938 when skiers began walking up activities the mountains using plain wooden skis with climbing skins on their base. At that time, reaching a considerable height could take a two, three or four hour walk through deep snow, then descend to enjoy just 15 minutes of the incomparable feeling of sliding down the snow.
Cerro Catedral is a few kilometers from San Carlos de Bariloche, a town in Patagonia that invites tourists to come in winter to ski, sail the lakes, enjoy the mountain and feel fully identified with a proposal that is amazing in the environment.
How to get there?
Paved road from the center of the city with free parking space for 960 vehicles.
Regular bus service every 30 minutes, company Tres de Mayo, with stops in between Bechtedt and Palacios Moreno and CívicoTaxis Center, limos, sightseeing, etc.
Lifts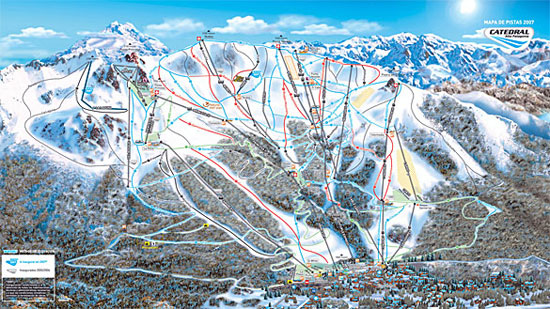 Map of the different slopes of Cerro Catedral.
Lifts
- 1 Cable Rail
- 1 lift sixfold
- 1 lift combi
(Quad and double)
- 2 Quads
- 2 Triple Chairlifts
- 10 double chairlifts
- 10 ski lifts
- 2 T-Bar
- 5 Soga lift
- 1 Ro-Cat
- Quad 1 Gondola
- 3 Babies
Catedral Alta Patagonia offers 40 lifts among which is the modern superbubble Sextuple detachable chairlift. These means can simultaneously carry about 35 000 skiers per hour. The hill has more than 120 kilometers of tracks and roads, with excellent snow from early June to early October.
Alta Patagonia mountain has a base height of 1030 meters and 2180 meters at the summit. Drop The maximum length is 9 km and a maximum height of track is 2100 meters.
During the season there is an average snowfall (according to statistics) of 6 meters at the summit, 3 meters in the middle and finally in the base 1.5 meters. And if there's snow is no problem, because in Patagonia there is a comprehensive system for snow making covering over 10 hectares, half of 46 guns (fixed and mobile), which operate with compressed air and water.
In winter the average minimum temperature is - 2 ° C and maximum 12 ° C, with a dry climate with prevailing winds from the southwest sector.
Other services
Catedral Alta Patagonia has a Snow Tour Team, are a group of guides who know every corner of the hill that organize tours to visit the inns, knowing the roads and connections to find the places with the best views.
Cathedral Gold is an exclusive service designed to meet the highest expectations for an additional fee. Booking is essential so that your hosts are aware of your arrival. Be received at the Living Gold Cathedral, a comfortable and relaxed atmosphere where wine tasting, lectures and surprises enliven the hopes, while managing your passes, equipment and instructors.
Villa Catedral

La Villa Cathedral becomes a paradise for the winter termporada.
It is the widest and most developed town in South America. At the foot of Cerro Catedral and 25 km from Bariloche, it has:
Accommodation: about 3000 hotel beds and inns, in addition to the 22,000 seats of Bariloche.
Ski Schools: for all ages, levels and styles.
Equipment Rentals: about 7000 Ski and Snowboard 1500.
Cuisine: bars, internet cafes, snacks, pubs, typical restaurants and international cuisine.
Shopping Las Terrazas: shopping center of 8000 square meters, a drugstore, shopping arcade, food court, equipment rental and day care, etc.
Paseo Plaza Amancay: Lower Station includes the Gondola Amancay, a large restaurant, local equipment rental, ski schools, agencies receptive area, hotel reception, toilets and offices. In addition, in 2011 Kids Club opened a new home with more space and renewed services for kids from 3 to 11 years fun, plus Child Care for babies from 45 days to 2 years.
Clubs and Casino, Club Hotel Catedral.
Source and Photo: Catedral Alta Patagonia.