Made in Bariloche

See map
Crafts, smoked, chocolates, organic products and more ...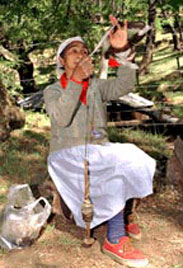 The majestic presence of nature with its landscapes of blue lakes and old growth forests makes Bariloche an special, almost magical place. Considered the Switzerland of Argentina, this town located on the shores of Lake Nahuel Huapi has been nurtured by different cultural influences such as Native and European. This is evidenced by the variety of regional products that are available in this area. Today, the presence of the Mapuche culture is in many place names and in particular tapestries, "ponchos" and roads loom made in handmade fabrics with wool from sheep or goat and in ornaments and silver bows.
Also pioneers, members of various European communities who came to these lands attracted by natural beauty, providing expertise in the manufacture of homemade chocolate, sweets with fine fruit and smoked foods such as trout, salmon, deer and wild boar. Also liqueurs and preserves are added to regional products as well as those derived from native and introduced species that make up the Andean-Patagonian flora. Many species are used in cosmetics such as creams and oils (like rosehip case) or as perfumes and essences (e.g. extracted from the lavender).
In addition, handmade candles, gnomes, the centerpieces made with bunches of dried flowers and rustic furniture handcrafted by skilled artisans working wood characterize the region. Others, however, display their talent and ability to manufacture various utilitarian or decorative items in ceramic, wrought iron, copper and other metals. More and more tourists coming to Bariloche enjoy living own place experiences and not just the contemplation of the landscape. That is why lately the new form has been the tour of organic farms, trout farms to processing plants and local produce and handicrafts.