Bariloche by steam train

See map
Ever dreamed of traveling the Patagonian landscape in a steam train? The Tren Histórico Steam (Historic Steam Train), which departs from Bariloche is a dream come true.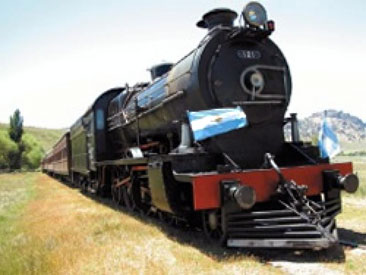 The steam train is an incredible offer to explore beautiful landscapes in an antique. Photo courtesy of EMPROTUR.
The train kepts the original features of the year of creation: 1912, consisting of five cars and a steam locomotive. For some, a train ride is to remember old times and to evoke memories. For others, perhaps new generations, means to live that feeling as discussed and revived by the elderly. It Is that traveling by train is the emotional burden of longing for the past tense.
From the Station of San Carlos de Bariloche you travel 40 kilometers to reach the Station Perito Moreno-Los Juncos. After traveling for 25 minutes looking at all the beautiful surroundings of Lake Nahuel Huapi, you enter into the Patagonian steppe. Crossing the bridge that over the beautiful Ñirihuau River. From here you can see the Andes in all its dimensions, contours and heights of the Catedral, the Tronador and Capilla Hill.
The train goes through the fields of Estancia El Cóndor to Perito Moreno Station, founded in December 15, 1933, which facilities has been completely renovated. There runs the tearoom and restaurant, where you can enjoy a delicious roast Patagonian lamb, served with a show of tango and folklore.
In the middle of the tour and to know the landscapes of Patagonia there are made walking tours to the Los Juncos small lake and Elefante Hill.
Lake Los Juncos was declared a Wildlife Reserve, thus there it can be seen the native flora and fauna. There are many birds among which you can see the condor, the eagle, black-necked swans, flamingos and more than eighty species of migratory birds like ducks corn growers, coots and blemishes. Ecologically the area is a steppe with isolated cypress forests and the flora more characteristic is the neneo, the bitter coirón and the tribulus among others.
Also visiting the Elefante hill that goes up after an hour-walk. This mountain is of volcanic origin and has rock formations that conducive to nesting eagles and condors. Since it you can see the lake in its entirety, a valley and the river nestled deep.
The tour departs in the morning and returns at 19 hours to Bariloche. It also has a bilingual guide.