The fishing Season and its rules in Bariloche

See map
The fishing season in this area, as elsewhere in the Patagonean region, begins November 1st and ends April 30th.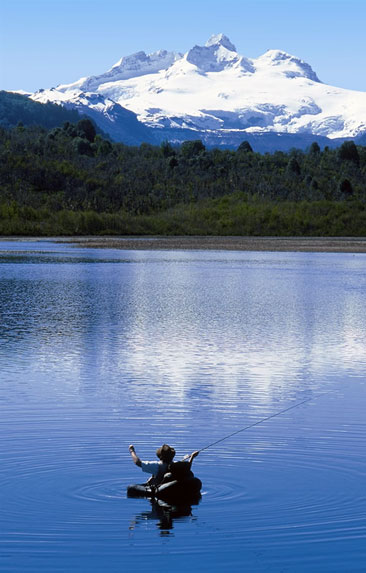 Fish immersed in the Patagonian landscape is a memorable experience.
Many people from abroad and even from different parts of the country, attracted by the natural beauty and fish that can be captured, they come to Bariloche each year during the fishing season. For this reason, fishing has become an alternative in the summer as important as skiing in the winter.
But sport fishing has mandatory technical to protect fish. For example, you should always fish with lures and you can not use live bait such as crabs, worms or shrimp. Nor can fish with lures with triple hooks, trot lines or fishing nets and scientific uses.
The accepted methods are: spinning (teaspoon), fly casting (fly) and trolling (trawling which use different lures). All arrangements can be done from shore, boat or motorboat.
Inside the National Park there are preferential areas like the mouth of the Limay river, where only fly equipment can be used and a more expensive permit need to paied to fish there, as the captured pieces are larger and result in better quality superior fishing.
The control of fishing is done in different ways. One is putting limits on fishing techniques and the other way is through the closed. At the time the fish are reproducing and are much more exposed, they are not fished to ensure there are fish for the next year and for hundreds of years. Then, poaching that takes place during the off-season, look back rivers salmonid, taking advantage of focus for reprodcution and so it is easier to capture them. This causes critical damage to the fish populations found in breeding season.
Moreover, there are areas where it is only allows "catch and oblied release." That is, the person that pulls the fish, at most he can take a picture, but then must return the fish to water unless it is very hurt. This regulation applies for example in a sector of the Limay River to the confluence with Traful river, which is within the jurisdiction of National Parks. In the first part of the Limay River it can be fished with spinning but fly is recommended because it has a single hook and does not hurt much the trouts that must be returned to the water. And to fish in this area, nothing better to choose the regional flies that imitate live insects which normally feed salmon and trout.
It is very important for fishermen to comply with all requirements in the regulation of fishing, which consider the particularities of every natural environment. Fishing permits are necessary and are available in the Municipal or Provincial secretaries or and the National Parks administrations. It is also worth remembering that the fishing day runs from dawn to dusk, being absolutely forbidden to fish at night as well as underwater.