Correntoso lake and river

See map
Correntoso River, the shortest river for larger fishing larger
Starting from Villa La Angostura in the direction of the Seven Lakes route, or the border with Chile, a few kilometers away is the bridge over the river Correntoso. The view from the bridge is wonderful to be seen wedged between high cliffs to the Correntoso river, short course of water from which the lake Correntoso empties into the lake Nahuel Huapi.

Spectaculer panorama taken from Velvedere hill. Villa la Angostura is in the center left, Lake Nahuel Huapi at he back, Lake Correntoso in the front right and the bridge over Correntoso river which connects them. Photo: Marcelo Orellana.
To the south the Nahuel Huapi is surrounded by mountains with thick forest, while north is observed Lake Correntoso which is narrow and runs north to south in the 300 meters length.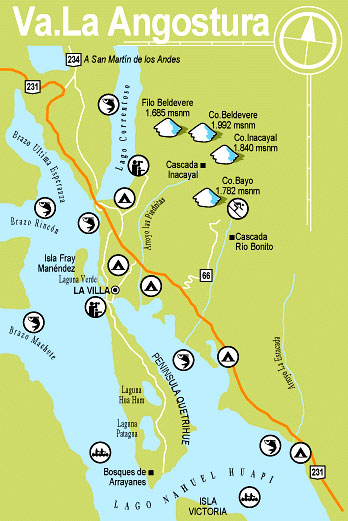 Worth walking down the banks of the river, which is accessed through the diversion of gravel, located about 500 meters before the bridge to the left (sign for camping). The river is dotted with basaltic rocks with a fish fauna composed of rainbow trout, brown and brook. The source of the river is heavily guarded area for being spawning grounds for these species. In just a few meters, the site brings together experts of fly fishing on the preferential characteristic of the "Mouth of Correntoso".
Lake Correntoso
Continuing down the gravel road leads to the southern shore of Lake Correntoso. The same extends from north to south, bounded by high mountains. Its waters are transparent green and has irregular coastlines. Its fish fauna is very important you can catch rainbow and brook trouts.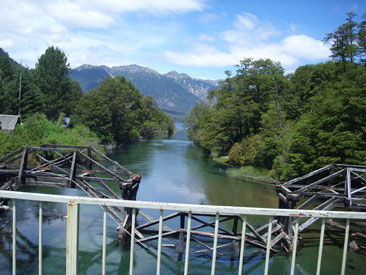 Correntoso river view from the bridge. Photo courtesy of Valeria Huwyler.
On the south coast, where the camping area is, a warm sandy beach is the starting point for activities such as swimming, kayaking and windsurfing. Along with sport fishing are the main attractions because of hotels and cottages for tourists settled on its banks.
Continuing down the gravel road skirt the southern shore of the lake and return by Los Arrayanes Avenue to the city. Otherwise you can return route No. 231 from where you came.