Coihue El Abuelo and Brazo Última Esperanza

See map
Duration: half day or a day by bicycle
Distance: 35 km., going on Route No. 231 and returning along the old route. You should go with a guide.
Before arriving can be seen from a natural viewpoint Lake Espejo, Lago Espejo Hotel with its history of pioneers, and the campsite of the same name.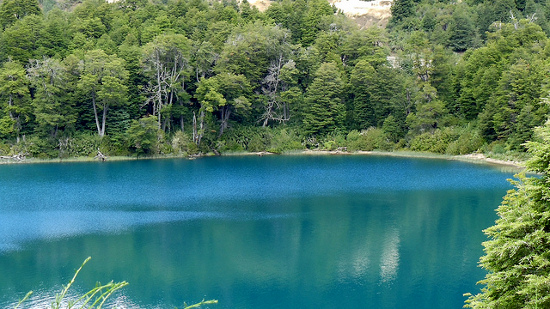 Lake Espejo. Photo courtesy of
PabloGimenez
.
The path is through a coihue forest and other shrubs and then reaches a little evergreen prairie. This was the ancient human settlement from which still remains wooden fences frecuently used in the area.
From here starts the path to "Coihue El Abuelo" between labyrinths of cane which as adaptation to the environment, grows in massive form. This great example of coihue (Nothofagus dombeyii), whose trunk can be embraced with 8 or 10 people, has 400 to 500 years old and is one of the oldest in this sector of Nahuel Huapi National Park.
Continuing with the tour you take again the path to the prairie from where you can get to Brazo Última Esperanza. On the way we see the Panguinal hill (1383 meters) and a small unnamed lake, where fishing is prohibited.