The coast of Patagonia: warm and very cold waters

See map
The coasts in this part of the world mean engaging blue sea, cliffs sometimes, flat beaches, and above all, unique marine wildlife reserves in the world. Since the summer tourist resort of Las Grutas, in the north to what is the southern end of the world, Ushuaia, there are hundreds of kilometers to go and see.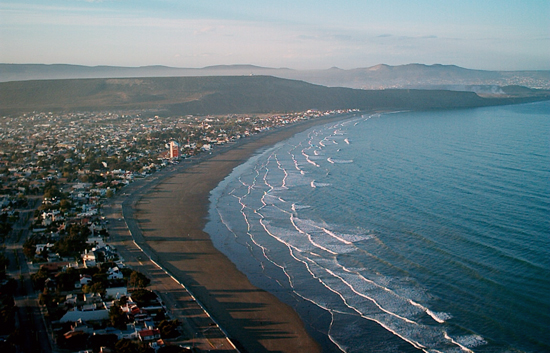 View of the resort village Rada Tilly located 10 km south of the city of Comodoro Rivadavia. Photo courtesy of Nestor Zelaya.

Besides tourism, the coast of Patagonia have an economy based on fishing and oil, which is support of many people in southern Argentina, as in the city of Comodoro Rivadavia. Just 10 km of this town is the southernmost beach in the American mainland, Rada Tilly, which has 2.5 km of sandy beaches.
In the province of Chubut, there also are the beaches of Puerto Madryn, touristic destination by excellence in the Patagonia because of its proximity to Peninsula Valdés, and Playa Unión, the resort of all the lower valley of Chubut river a few kilometers from Rawson.
But without a doubt, the beach convener for its warm, compared to those of Chubut that are cold, is Las Grutas. This resort attracts thousands of tourists each summer from all over Argentina and neighboring countries who venture to explore the Patagonian coast. Nearby we find the town of San Antonio Oeste and the deepwater port San Antonio Este.
A destination that is growing but is of incomparable beauty is Playas Doradas in the province of Río Negro. Its fine sands and long beaches make this an unforgettable place. And finally, it's worth mentioning El Cóndor, the capital of Río Negro resort.
Finally, it's important to mention the coastal cities of the province of Santa Cruz, although they are not resort villages, they are located on the Atlantic coast. Most of them grew up around trade and communication ports. Among these locations can mention Puerto Santa Cruz, Puerto San Julián, Caleta Olivia and Puerto Deseado.