The beaches of Rada Tilly

See map
Rada Tilly Beach is 15 km south from Comodoro Rivadavia in the Atlantic Ocean. Born as a summer village but today is inhabited permanently. It has all the services and 4,000 people-mostly young, have in turn benefits from the nearby Comodoro Rivadavia.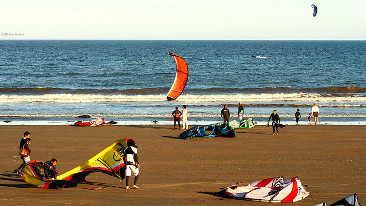 Kitesurfing is practiced on Rada Tilly beaches.Photo courtesy of
nestor galina
.
For those who like the seascape, every morning is different in Rada Tilly. Its extensive beaches invite to be traveled on quiet walks. People practice all water sports and there is also a school of wind buggy.
The landscape of clear water and wildlife can be enjoyed from viewpoints located in each of the hills that contain the north Punta Piedras or south Punta del Marqués. This village is used by residents Comodoro Rivadavia as a weekend village.
South of the villa, an imposing plateau composed of seabed of more than 20 million years old, goes 1500 meters in Argentine sea, marking the center of the Golfo San Jorge.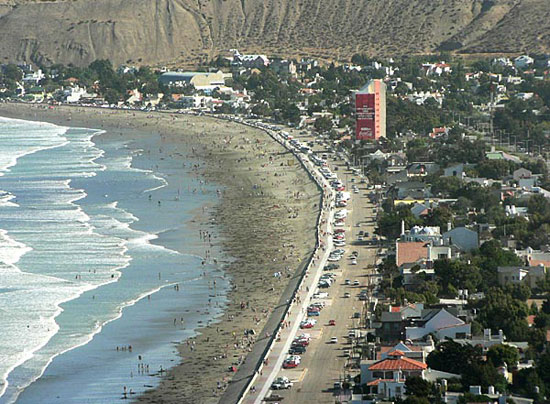 This place has a system of lookouts located at 160 meters above sea level that you can arrive by car in just 20 minutes from an attractive tour, to appreciate its uniqueness: the magnitude of its edges cliffs, the vastness of the open sea, the clay textures and biological diversity of an environment ecotonal of the Patagonian steppe.
At the foot of the steep slopes topped with oyster in Punta del Marqués, overlooking a wild colony of sea lions sheltered by the Provincial System of Protected Areas and Biological Research Unit.
Another attraction you can visit in this town is the Regional Museum. It was inaugurated on February 27, 1987 by neighbors who gave valuable private collections in possession of fossils and stone to which were added copies of native fauna, which made it a vital part of our prehistoric sample and the medium unites us with those people.
The legends, the etymological use of flora and fauna and landscape formation occupy part of the work programs of both extension and research dissemination and made their own or jointly with the Universidad Nacional de la Patagonia San Juan Bosco.
It opens from Tuesday to Friday from 9:30am to 1 pm and 4pm to 8pm, and on Saturdays, Sundays and holidays from 4pm to 8pm. Entrance is free. For more information you can contact the phone No. (0297) 4452472.