The largest wind park in the continent is in Comodoro Rivadavia

See map
Antonio Morán Wind Park is in Cerro Arenales about 17 km from the center of Comodoro Rivadavia and 400 mts. above the sea level. It is literally a park with large windmills. Arranged in an orderly way and rising like giants on the ground these collected large air scoops that never stops running here.
Like this,through wind, mills generate a type of energy which, by its nature, is considered the future energy: wind power. Why the future? Because, unlike other resources that are being depleted and whose exploitation can cause environmental impacts, such as oil or water, the wind generates renewable energy and produces no pollution whatsoever. The park that has been built here is, so far, the largest in South America.
Thus, as the town of Comodoro Rivadavia say:
"The wind park will generate healthy energy for the environment, and will produce renewable energy and clean, avoid the use of renewable fuels, the emission of pollutants into the atmosphere and work with the International Programme on Global Climate Change, and hence the greenhouse effect, according to the requirements of the Climate Treaty, in the Earth Summit in 1992".
In addition, because of their rarity, the mills on the hill Arenales are a tourist attraction in the city of Comodoro. The grandeur of these giants catch visitors who come here.
History and Technical Data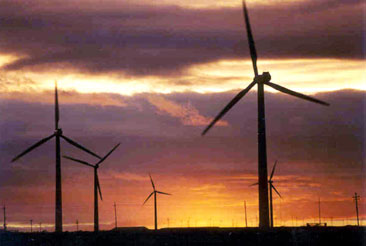 Windmills stand up like giants in the Arenales hill in Comodoro Rivadavia.
The first windmills were installed in this park in January 1994, through a private venture. They had 250 KW each, and also became the first of its kind in the country and the continent.
In 1995, imposes on the grounds of the wind park the name "Antonio Morán". And in 1997 the People's Cooperative Society Limited was again a pioneer in signing a Major Wind Park of South American continent with the assembly of 8 machines of 750 KW, each totaling 6,000 kW of installed capacity that is added to the 500 KW that already exist.
More recently, in 2000, an agreement was signed for the installation of 16 windmills more. Also of 750 KW each.
Some technical characteristics of the wind turbine are:
Nominal power: 750 KW
Annual production: 2,800,000 kWh
Rotor diameter: 44 meters
The rotor height: 41 meters
Total weight: 66,000 kg
Each blade weight: 2,600 kg
Tower weight: 31,000 kg
Rotation speed: 18 r.p.m. and 27 r.p.m.
Start Wind: 13 Km / h
Stop Wind: 90 Km / h.