The Oil Production Circuit Explained

See map
The circuit attempts to assess the oil tradition that has Comodoro Rivadavia. The city developed around the exploitation of oil. This is why it is declared "National Oil Capital."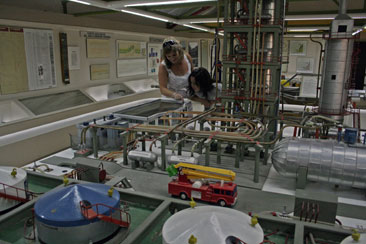 The museum shows everything related to the oil industry. Photo "Gentileza Agencia Comodoro Turismo".
The first contact of the circuit is the District General Mosconi, ie in Km 3, since then won the characteristics of a large oil camp. In that place it describes the history and exodus of ex - camp that allowed the progress and the oil boom.
Then you visit in the coast "Playa de Tanques" where loading and unloading of crude oil take place. In this space detailing the activity and function of each one of the devices that allow the transport of oil.
Finally you enter the National Petroleum Museum, located in the same neighborhood because there is concentrated a great history of the oil industry.
The Petroleum Museum is considered one of the three largest in the world, along with Russians and the ones in the U.S. The purpose is to display and disseminate the different phases of the oil through valuable pieces, such as machinery, equipment, tools, materials, etc. To acquire a basic understanding of this vital industry.
Also you can observe the origin of the Earth and evolution of human life, fossils of dinosaurs, marine debris and samples of flora and fauna of Patagonia.