The port as an engine of economic grouth

See map
The port is located in the central area of ​​the city at the end of the Punta Borja. Designed to accommodate vessels up to 180 meters long, is designed to meet the demands of general merchandise traffic, the fishing and ship repair in the medium term.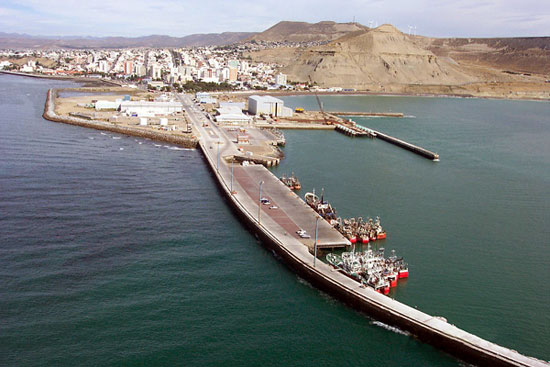 One on the major commercial and fishing port in Argentina.
This important and strategic piece of infrastructure is the one who initiated the Port of Chubut Provincial Board under the Ministry of Economy and Public Works of the Province.
The improvements are:
- Construction of a oversea quay of 216 meters, front of attack.
- Construction of 300 meters, Rockfill.
- Extending 5 meters to 10 meters deep.
- Increased services, enhancing the lighting power outlets, water, fuel, and a fire system with seawater.
We evaluate the recovery of more than 16 hectares of reclaimed land and the construction of the dock number 2, as well as the installation of services to meet the repair of vessels up to 90 meters in length.
All these works are part of the necessary investments towards improving the operation and the strengthening of the Bi-Oceanic Corridor.
Fishing activity in Comodoro Rivadavia
Fishing by the port is extremely important as a center of catching shrimp and crabs. Deep sea fishing, especially of coast are two very common activities in the area.
Report produced by the Office for Tourism Municipality of Comodoro Rivadavia